Home New Search Gallery How-To Books Links Workshops About Contact
Canon 5D Mark II at High ISO:
Moonlight Hand-Held!
© 2008 KenRockwell.com. All rights reserved.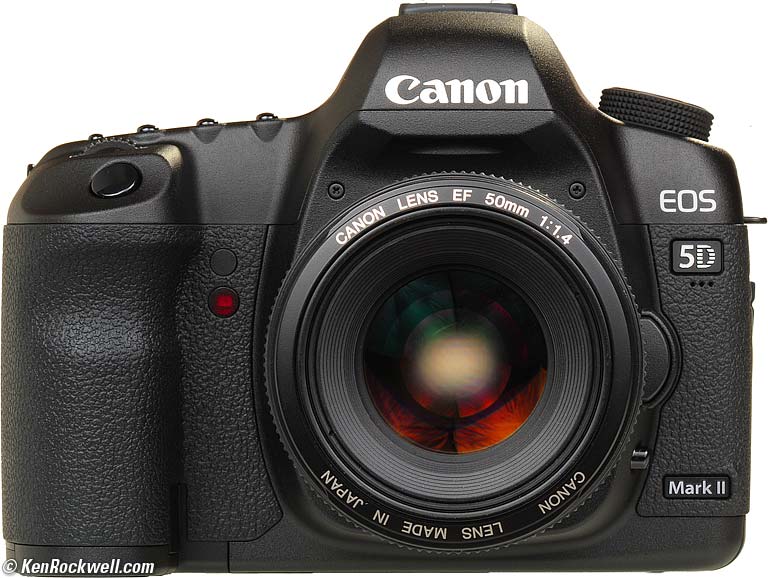 Canon EOS 5D Mark II and 50mm f/1.4. enlarge. Adorama is already taking orders for the body, and Adorama also is taking orders for the kit with the 24-105 lens. Ritz is, too. Amazon is still figuring it out for the 5D Mk II body and 5D Mk II kit, which is why my order is already in at Adorama. It helps me keep adding to this site when you get yours from these links, thanks! Ken.
December 2008 Canon 5D Mark II Review More Canon Reviews
What can the 5D Mark II do hand held?
Look: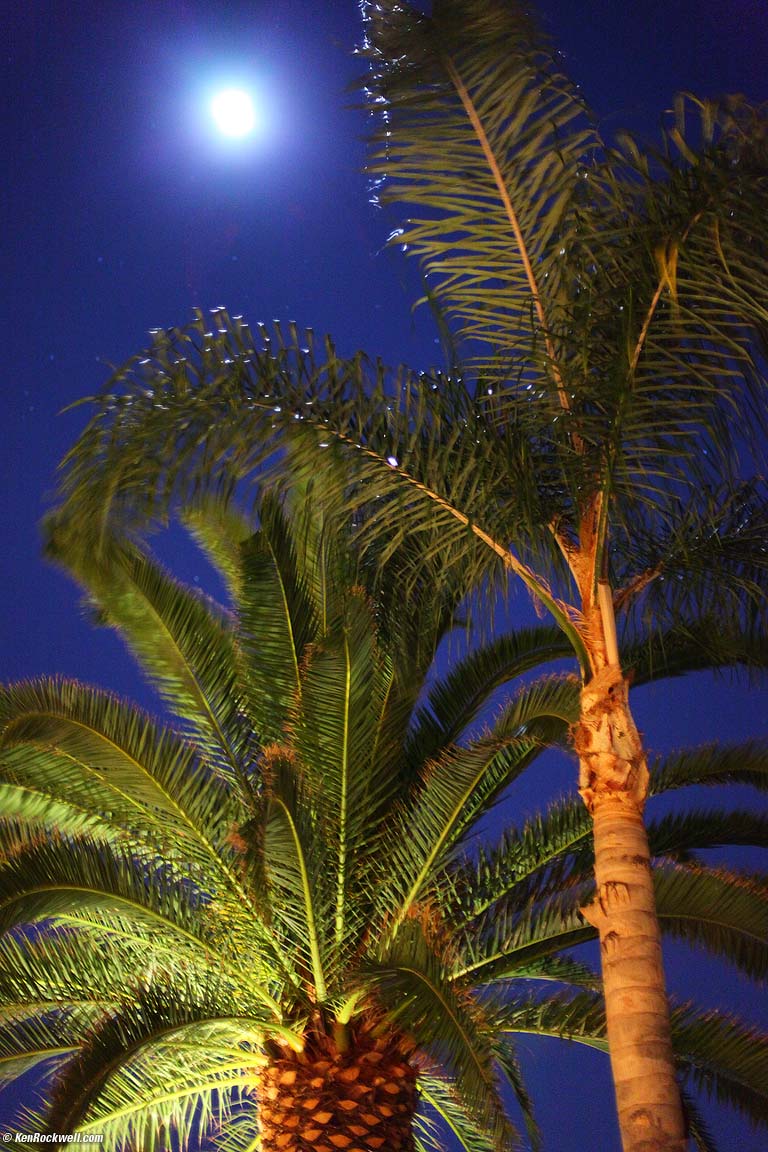 Canon 5D Mark II in Auto ISO which chose ISO 3,200, hand-held. 50mm f/1.4 USM, f/1.4 @ 1/4 second.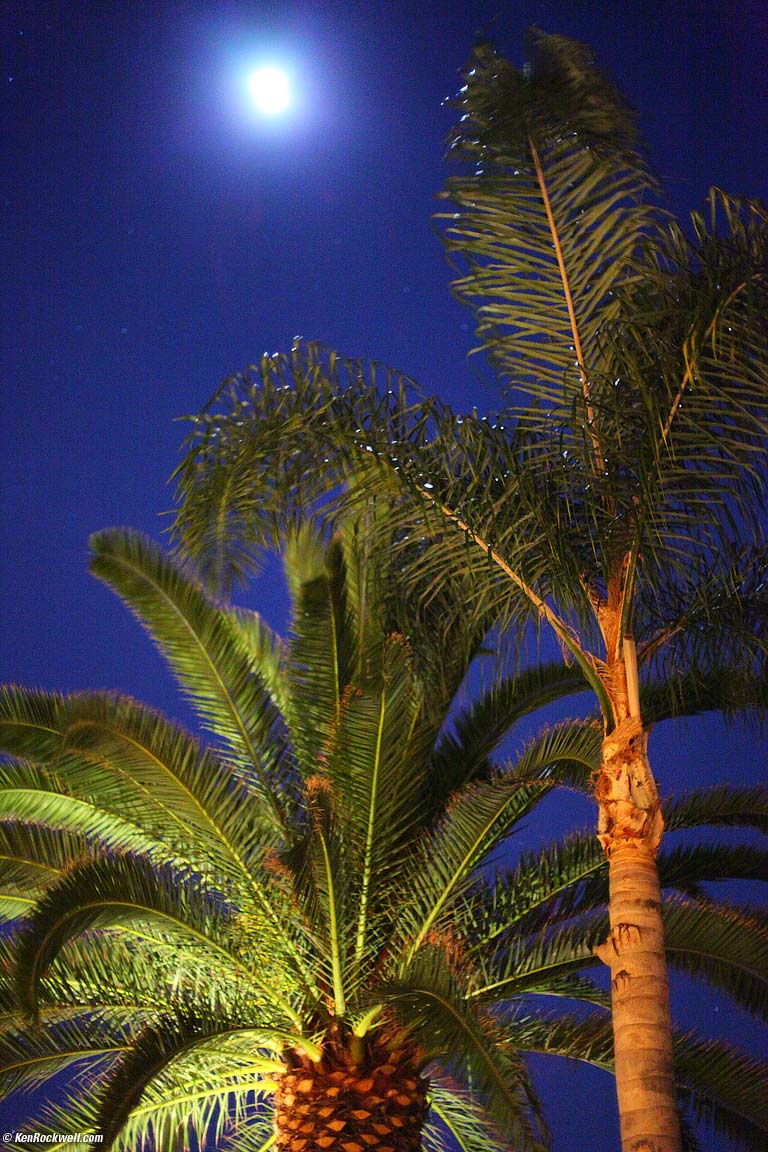 Canon 5D Mark II at ISO 6,400, hand-held. 50mm f/1.4 USM, f/1.4 @ 1/8 second.
Canon 5D Mark II at ISO 12,800, hand-held. 50mm f/1.4 USM, f/1.4 @ 1/15 second.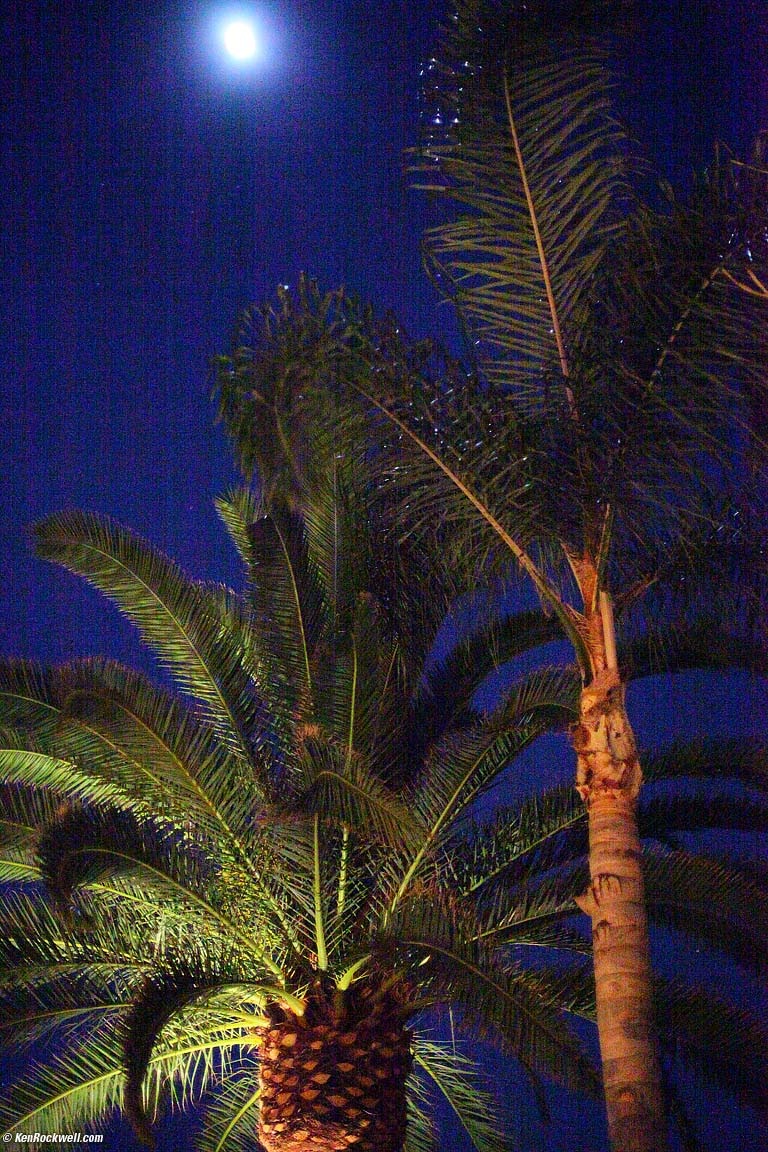 Canon 5D Mark II at ISO 25,600, hand-held. 50mm f/1.4 USM, f/1.6 @ 1/40 second.
Technik
I saw palm trees lit by an almost-full moon. I pointed the 5D Mark II and shot.
There is lots of subject motion: the wind was blowing the palms, and at f/1.4, nothing is in focus due to the nonexistent depth-of-field.
What is intriguing is that the 5D, right as its set in Auto ISO right out of the box with a $350 50mm f/1.4 lens, can catch moonbeams glinting off a palm at night, hand held.
The palms were lit by 12V halogen. I set the WB to Tungsten to make the sky blue, and the palms look normal.
The dots in the sky are stars, not hot pixels.
The moon isn't full, which is why it has a funny blown-out shape.
Analysis
ISO 6,400 looks fine.
ISO 12,800 has streaks, and ISO 25,600 is awful.
I used the default NR settings.
Long Exposure NR probably wouldn't have done anything, because these are all short exposures.
I don't know that turning HI ISO NR any higher would have eliminated the streaking, but these are another night's experiments.
Sure, given s tripod I could have shot at ISO 100 and f/8. The key here is that shooting under moonlight is now as simple as presssing the button with a Canon 5D Mark II.
PLUG
I support my growing family through this website.
If you find this as helpful as a book you might have had to buy or a workshop you may have had to take, feel free to help me continue helping everyone.
If you've gotten your gear through one of my links or helped otherwise, you're family. It's great people like you who allow me to keep adding to this site full-time. Thanks!
If you haven't helped yet, please do, and consider helping me with a gift of $5.00.
The biggest help is to use these links to Adorama, Amazon, B&H, Calumet, Ritz and J&R when you get your goodies. It costs you nothing and is a huge help. These places have the best prices and service, which is why I've used them since before this website existed. I recommend them all personally.
Thanks for reading!
Ken
Home New Search Gallery How-To Books Links Workshops About Contact