Canon S80 Test Review
© 2005 KenRockwell.com about these reviews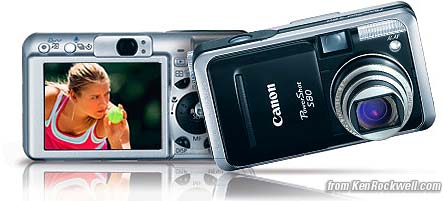 I'd get it here, here or here for about $500
INTRODUCTION
The Canon S80 was announced on August 22nd 2005. It's a compact 8 MP camera with a 3.6x zoom roughly equivalent to a 28 - 100 mm lens on a 35 mm film camera.
The S80 is a solid little camera that can produce excellent images. It has great optics, but is a lot slower to operate and bigger than my tiny Casio. If you tolerate slow response to button pushes and don't mind the size you'll prefer the S80; if you are as impatient as I (I'm pretty unsympathetic towards slow cameras) you'll prefer the Casios.
Compared to S70
The S80 probably replaces the previous perfectly good S70, which used the same lens, sensor size and battery.
The S70 is 7MP; the S80 is 8MP. The S70 has a 1.8" instead of 2.5" LCD. The S70 is 4.5" wide instead of 4.1" weighs 5 grams more than the S80. The S80 takes SD cards; the S70 takes Compact Flash. The S80 lacks the RAW mode of the S70. The S80 adds two higher quality video modes in addition to the three of the S70. As of October 2005 the S70 sells for $430, the S80: $550. Image quality ought to be the same; the resolution is an invisible bit higher in the S80 in exchange I suspect for slightly more noise at high ISOs.
As of February 2006 the S80 sells for about $430.
SPECIFICATIONS
8 Megapixels. 3,264 x 2,448 pixel images. Also 2,592 x 1,944, 2,048 x 1,536, 1,600 x 1,200 and 640 x 480 settings.
3.6x optical zoom 5.8 - 20.7mm f/2.8-5.3. Similar to a 28 - 100 mm lens on a 35 mm film camera.
Shutter 1/2,000 - 15 seconds. Noise reduction when manually set between 1.3 to 15 seconds.
ISO: AUTO, 50, 100, 200, 400.
White Balance Auto, Preset (Daylight, Cloudy, Tungsten, Fluorescent, Fluorescent H, Flash, Underwater), Custom. Rats, no Shade white balance. I use the custom setting to do this.
File Format: JPG. Three JPG compression levels. I don't see RAW listed, which I never use. File size varies with subject complexity, as I prefer.
SD and MultiMedia cards
2.5" LCD, 115,000 pixels
Movies: 1,024 x 768 @ 15 fps, 640 x 480 and 320 x 240 at 30 and 15 fps, 160 x 120 @ 15 fps. If I read this right the 1,024 mode is higher resolution than DVDs or studio television!
USB 2.0
Battery: Rechargeable Lithium NB-2LH. Rated 200 shots CIPA, 700 shots with the LCD off.
Size: 4.1" x 2.2" x 1.5" (104 x 57 x 39 mm) W x H x D
Weight: 8 oz. (225 g), no card or battery
PERFORMANCE
As expected, quite good. Like most Canons its lens is excellent.
Operational Speed
Fairly typical for Canon. The power switch is the sliding lens cover. I can drive a little faster than the menus can keep up. It's easy to figure out. I prefer the menu and operational system of Casio's cameras, like my Casio EX-Z750, as they need fewer button presses to make critical shot-to-shot adjustments like ISO and White Balance than the Canons do.
Autofocus
Typical for a small camera. It's fine for still subjects and too slow for action like sports and children.
Lens
As expected, an always excellent lens. It's quite sharp and a lot better than the lenses in my Casio credit card cameras.
Distortion
The distortion is simple enough to correct very well.
5.8 (28) mm: Barrel. CS2's lens distortion correction fixes it at a setting of +4.50.
7.3 (35) mm: Minor barrel. CS2's lens distortion correction fixes it at +1.20.
11.4 (55 mm): Very minor barrel. CS2's lens distortion correction fixes it at +0.60.
20.7 (100) mm: None.
ISO and Noise
Noise is exactly as I expected and typical for all compact cameras.
Noise is reasonably low at ISO 50. It becomes visible at ISO 100 if you're looking for it. It increases at ISO 200 and as expected it's very noisy at ISO 400.
Try to keep the Canon S80 at ISO 50 or 100 and avoid ISO 400 unless you want a deliberately grainy effect. I find my Casio EX-Z750 is much better at ISO 400; it's the only pocket camera I've used that is.
The S80 is sharp at every ISO setting.
LCD
The screen is big and clear. The menus are boldly obvious. I have not tried it in daylight.
ACCESSORIES
0.8x Wide-angle conversion lens WC-DC10 converts the angle of view from about a 28 mm equivalent to about at 22mm equivalent. It's about $175 here or here. To use it you also have to have a LADC20 adapter to mount it which will cost you $35 here or here.
2x teleconversion lens TC-DC10 gets you out to about the equivalent of a 200 mm lens. It will run you about $85 here or here. To use it you also have to have a LADC20 adapter to mount it which will cost you $35 here or here.
I'd pass on either conversion lens. If you're that hooked on lenses you'll be much happier with an SLR camera like the Nikon D50. The wide lens has little effect on the image, but a huge effect on the convenience of the camera and weight. To add the wide lens you're looking at a total price of about $760, and for that you may as well look at something like the Nikon D50 with a Tokina 12-24mm f/4 for much better and wider results. The teleconversion lens has a significant effect on magnification, however it makes it difficult to focus. You cannot use this setup for sports or moving objects. If you get either of these setups be sure to order them online so if you don't like them you can return them.
130' (40 meter) Waterproof Housing WP-DC1 costs about $200 here or here. As an option to the option, there's an optional $25 Canon WW-DC1 weight set to neutralize the housing's buoyancy.
RECOMMENDATIONS
The Canon S80 has an excellent lens and can create extraordinary images. It's a solid little brick of a camera idea for taking anyplace that the speed of an SLR isn't important.
I prefer the operational speed and size of my Casio EX-Z750, however if you don't mind the slower response, higher noise at high ISOs and larger physical size the Canon S80 has a better lens.
I haven't done a battery test. I know the Casio EX-Z750 has enormous battery life.
I also like the wider than normal zoom of the Canon S80, as well as the black case color.
The S80 has no surprises to anyone, like me, who already owns a Canon compact camera. If you think you want one then by all means order one and you'll love it. Canon makes extraordinary products.