USE ON 35mm CAMERAS back to Performance or back to Introduction.
It works great, live it up.
USE WITH FILTERS back to Performance or back to Introduction.
No problem!
Use the fattest filter or stacks of 58mm filters you want. The worst thing that will happen is some additional light falloff at the 300mm end. At 70mm the Canon 70-300mm IS looks only through the center of the front of the lens, so it will see through a stack of filters without issue.
FLARE AND GHOSTS back to Performance or back to Introduction.
Ghosts are no problem unless you ask for them. The Canon 70-300mm IS works great, even for sunset shots.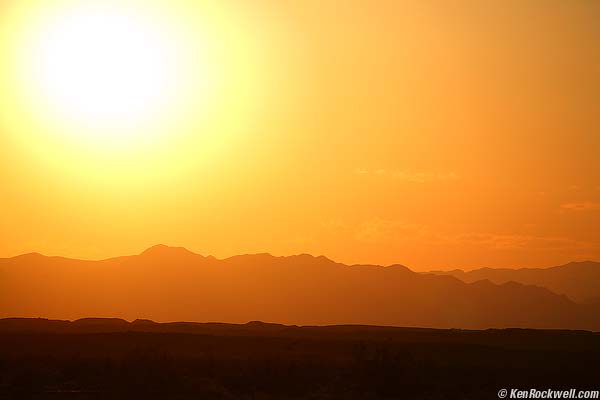 Sunset, Amboy, California, at 300mm, f/8 at 1/500, Canon 5D at ISO 50.
If you ask for it, you can get it to do this: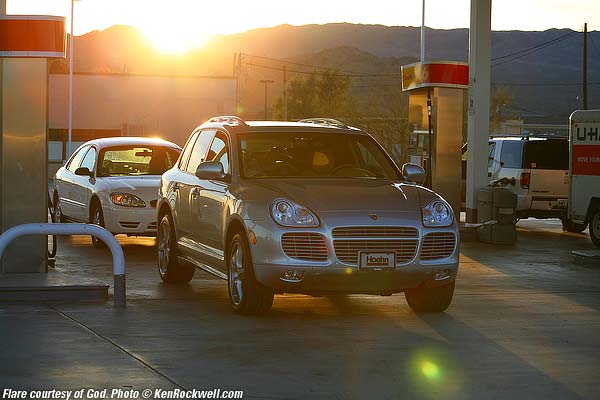 Porsche Cayenne Turbo S, Baker, California, at 95mm, f/5.6 @ 1/60, Canon 5D at ISO 100.
In this second shot I'm exposing for the shadows, but the 5PM sun is blazing directly into the lens. If you were photographing the sun and ridge you'd use much less exposure, hiding the ghosts.
This better performance than most of the other Canon teles I've pointed into the sun.
USE with FLASH back to Performance or back to Introduction.
There's no problem, even with the built-in flash of my Canon Rebel XTi at any focal length at its closest focus distance.
Built-in flashes are often so close to the camera that some lenses can see far enough down to see their shadow cast by a built-in flash.
MACRO back to Performance or back to Introduction.
The Canon 70-300mm IS focuses reasonably close for 300mm.
Here's what it does on a 1.6x Canon Rebel XTi. It won't get as tight with a 1.3x or full-frame camera.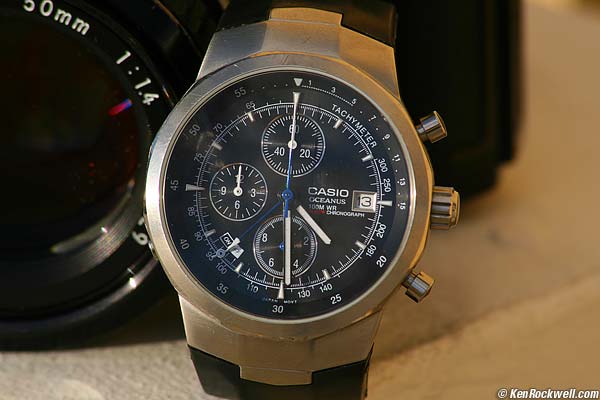 Canon 70-300mm IS at 300mm at closest focus, full image from Rebel XTi.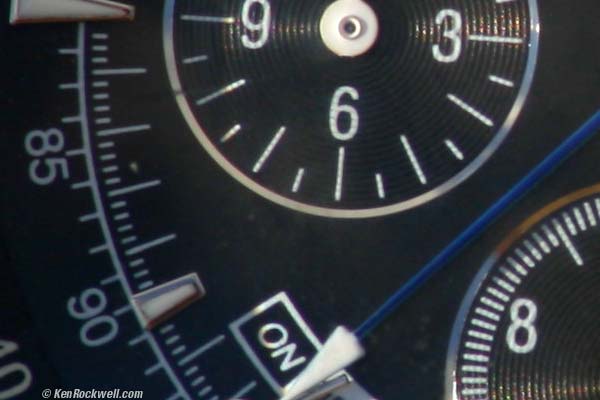 100% crop from above, no extra sharpening.
It's OK, but not as sharp as a true Canon 100mm macro lens. It is sharp enough to show me that I should have cleaned the smudges from my watch crystal first, and sharp enough to show tight enough depth of field to throw the hands slightly out of focus!
Canon fanatics take note: I'm using my classic Nikon F2AS as a paperweight to hold my watch!
SERIAL NUMBER back to Performance or back to Introduction.
The serial number is laser-engraved in black on black on the bottom rear of the plastic barrel.
SHARPNESS back to Performance or back to Introduction.
In actual use I see no difference between this Canon 70-300mm IS and my brand-new $1,000 Canon 70-200mm f/4 L IS. On test charts the difference is dramatic wide open and in the corners, but not in the middle of the image at normal apertures where we actually use these lenses.
Sharpness is great for real photograpy. The first time I saw its images on my 30" monitor I was knocked over, since I wasn't expectiing much and the images are excellent.
So long as you stop down a stop or two, your technique will be your biggest barrier to sharp photos. I have a page on How to Get Sharp Photos.
Here are my observations. Letters correspond to center - side - corner, or center - corner. Possible ratings are E - VG - G - F - P. These are subjective. Don't fret over differences between adjacent grades.
Diffraction is usually the sharpness-limiting factor for all lenses, especially digital SLRs, at about f/11 and above. See also How Sharpness Varies with Aperture.
On a 1.6x camera (my Canon Rebel XTi in this case), center - corner:
| | | | | |
| --- | --- | --- | --- | --- |
| | | f/5.6 | f/8 | f/11 |
| 70mm | G - G | VG - VG | VG - VG | VG - VG |
| 100mm | E - G | E - VG | E - E | E - E |
| 135mm | VG - VG | VG - VG | VG - VG | VG - VG |
| 200mm | G - G | VG - VG | E - VG | E - VG |
| 300mm | | VG - G | E - VG | E - VG |
On a 1.3x camera (1D etc.), center - far corner:
| | | | | |
| --- | --- | --- | --- | --- |
| | | f/5.6 | f/8 | f/11 |
| 70mm | VG - F | E - F | E - VG | VG - VG |
| 100mm | VG - F | VG - G | VG - G | VG - G |
| 135mm | G - G | VG - VG | E - VG | VG - VG |
| 200mm | VG - G | VG - G | E - VG | E - VG |
| 300mm | | VG - G | VG - VG | VG - VG |
On a Full-Frame camera (my Canon 5D in this case), center - sides - very farthest corner:
| | | | | |
| --- | --- | --- | --- | --- |
| | | f/5.6 | f/8 | f/11 |
| 70mm | VG - F - P | E - F - P | E - VG - F | VG - VG - G |
| 100mm | VG - F - F | VG - G - G | VG - G - G | VG - G - G |
| 135mm | G - G - VG | VG - VG - E | E - VG - VG | VG - VG - G |
| 200mm | VG - G - G | VG - G - G | E - VG - VG | E - VG - VG |
| 300mm | | VG - G - G | VG - VG - VG | VG - VG - VG |
Sharpness Discussion: Forget these ratings. In actual use, the biggest limit to this lens' sharpness is depth of field, motion, and, at 300mm, atmospheric seeing conditions (heat shimmering, even in winter).
When I went out of my way to find a target with details in the farthest full-frame corners, what do you know, it is soft at 70mm, wide open. So what - if you want to shoot test targets, get the Canon 100mm f/2.8 macro which costs less and works much better at 100mm. With real subjects, there almost never is anything in the far corners at the same distance (and therefore in focus) as the main subject.
In real photography the Canon 70-300mm IS amazed me with its consistently excellent results. This doesn't show up in tests: the fact that it always gave a sharp image without any of the autofocus or other problems other lenses have. These other issues, which affect your and my photos, are usually cancelled out of other peoples tests, since magazines and others focus manually with microscopes to null out any camera autofocus issues!
back to Performance or back to Introduction.
IS works great: it bolts down the image and lets me make sharp shots at 1/15 second at every focal length.
Read Why IS is Important to understand what these ratings mean.
When IS is active, you'll hear what sounds like a motor running inside the lens and feel some vibration. This is normal.
This lists the percentage of sharp shots that I get with and without IS on my Rebel XTi. The first figure is with IS OFF, and the second is with IS ON.
Read Why IS is Important to understand more about what these ratings mean.
| | | | | | | | | | |
| --- | --- | --- | --- | --- | --- | --- | --- | --- | --- |
| | 1/2 | 1/4 | 1/8 | 1/15 | 1/30 | 1/60 | 1/125 | 1/250 | 1/500 |
| 70mm | 0/30 | 0/20 | 0/40 | 10/60 | 30/100 | 80/100 | 100/100 | 100/0 | 100/100 |
| 135mm | 0/5 | 0/15 | 0/30 | 0/50 | 20/100 | 40/100 | 80/100 | 90/100 | 100/100 |
| 300mm | 0/0 | 0/5 | 0/20 | 0/50 | 0/50 | 5/70 | 20/100 | 70/100 | 100/100 |
Now let's chart the slowest speed to get 50% sharp shots at each focal length, and with that, we can calculate how many stops we gain with IS.
No IS

IS

Real
Stops Improvement

Marketing
Stops Improvement

70mm

1/40

1/15

1-1/3

2

135mm

1/60

1/15

2

3

300mm

1/200

1/15

3-2/3

4
"Real Stops Improvement" are how many extra stops I got, IS ON compared to IS OFF.
"Marketing Stops Improvement" isn't comparing the speed I can use from IS OFF to IS ON, but instead comparing the speed one can use with IS ON to the old-wives-tale speed of 1/focal length. That's called Lying with Statistics, and that's par for the course for marketing departments.
This is great performance, as most IS and VR systems offer. It's critical to have more performance at the long end; where camera shake is critical, and that's exactly what this does. The Canon 70-300mm IS easily gives me three to four real stops improvement at 300mm where I need it. This means I can use it in daylight at 300mm. Without IS, even in full sunlight I'd have to boost ISO to get sharp shots handheld. God bless IS!
TIP: In dim light, fire several shots in the continuous shutter mode and pick the sharpest later. Blur is a random event, so if you fire enough shots, you'll eventually get a sharp one even at slow speeds!
ZOOMING back to Performance or back to Introduction.
The zoom range is well spaced on the zoom ring. This makes it easy to select the exactly focal length and composition I want. Other lenses can cramp some focal lengths together, making it hard to select slightly different focal lengths.
The zoom ring turns 1/4 turn from one end to the other and runs about 3 cm/octave. It's a little more cramped between 200-300mm, but always a pleasure to zoom.
It has a dry undamped feel. It has a tiny amount of stiction, but it never gets in the way of easy, fast and precise zoom setting.
Zoom Creep
Awful! Point up or down, and it flops in or out to 70mm or 300mm. I borrowed a well-worn one; others tell me theirs are fine.
There is a manual lock to hold it at 70mm.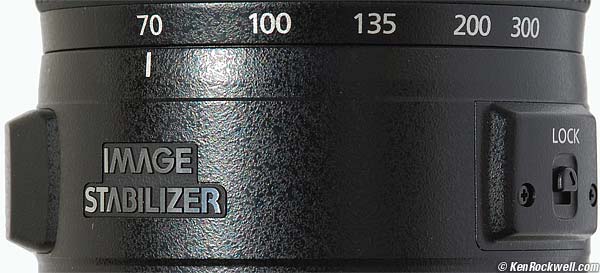 The zoom lock switch is on the right.
Focus Shift while Zooming
Focus shifts a little. It's best to focus after you zoom.
Actual Focal Lengths
The focal lengths appear accurate at all distances.
This is as expected with a traditional front-group-focus lens.
This means the focal length doesn't get shorter as you focus more closely, as it does on the Nikon 18-200mm VR.
There's no free lunch: the traditional focus of this Canon 70-300mm IS lets you keep your full 300mm at the close focus distance, but it means that the close focus distance is only 5 feet (1.5m) and not a foot and a half (50cm) as it is with internal focusing (IF) lenses like the Nikon 18-200mm VR.
70mm: f/4.0
100mm: f/4.5
135mm: f/5.0
200 mm: f/5.0
300 mm: f/5.6
Focal Length Encoding Accuracy
The EXIF data agrees exactly with the settings marked on the lens at 70, 100, 135, 200 and 300mm.
I have not correlated the accuracy of the markings with actual focal lengths.
RECOMMENDATIONS top
Intro Specs Performance Recommendations
Buy one! The Canon 70-300mm IS is a great lens. If $600 is your budget, this is a no-brainer.
Why? First-class optics, super light weight, great resistance to flare, wide and well spaced zoom range and excellent image stabilization.
I'm an infrequent tele shooter, so for me weight and size is very important since I spend more time carrying my teles than I spend shooting with them. I worry more about my wide lenses.
Forget that it's not L-series unless you're a full-time journalist who often breaks lenses. Optics are as good, in fact, this 70-300mm IS gives sharper images than my L-series wide lenses. Ultrawide lenses aren't as sharp as teles.
Real image quality of this IS lens will be much better than non-IS L-series lenses handheld. Yes, the 70-200mm f/4 L (non-IS) will be much softer for handheld shots of still subjects at 200mm due to hand motion, which the IS of this 70-300mm IS will cancel.
Personally I bought myself the Canon 70-200mm f/4 L IS because I got it on rebate in July 2007. I'm not on a budget, but I am a sucker for a sale. The 70-200mm f/4 IS is almost twice as expensive, bigger, heavier, and only goes to 200mm. I like this 70-300mm IS so much I'll probably get one if it ever goes on rebate. I like it that much.
Canon makes another 70-300mm IS lens, the 70-300mm DO IS (note the additional "DO.") The 70-300mm DO is shorter and has full time manual focus without needing a switch, but it weights 3 ounces more, has poorer image stabilization and costs twice as much.
I'd not get any non-IS telephoto zoom lens, even an L-series. IS is critical for sharp results, even in daylight, without a tripod. That rules out the not much more expensive 70-200 f/4L and the other two non-IS Canon 70-300mm lenses at half the price.
Recall Note: If you have an early production copy, Canon may have a recall on it and will fix it for free. See this Service Notice. The one I borrowed and liked so much was one of these old serial numbers; I'm unsure if it had already been worked it over by the time I got my hands on it. A reader who had his serviced said Canon also fixed the zoom flop, free! Since mine still flopped, I'll presume mine may have been one of the bad ones, and I still loved it.
Help me help you top
I support my growing family through this website, as crazy as it might seem.
The biggest help is when you use any of these links when you get anything, regardless of the country in which you live. It costs you nothing, and is this site's, and thus my family's, biggest source of support. These places have the best prices and service, which is why I've used them since before this website existed. I recommend them all personally.
If you find this page as helpful as a book you might have had to buy or a workshop you may have had to take, feel free to help me continue helping everyone.
If you've gotten your gear through one of my links or helped otherwise, you're family. It's great people like you who allow me to keep adding to this site full-time. Thanks!
If you haven't helped yet, please do, and consider helping me with a gift of $5.00.
As this page is copyrighted and formally registered, it is unlawful to make copies, especially in the form of printouts for personal use. If you wish to make a printout for personal use, you are granted one-time permission only if you PayPal me $5.00 per printout or part thereof. Thank you!
Thanks for reading!
Mr. & Mrs. Ken Rockwell, Ryan and Katie.
Home Donate New Search Gallery Reviews How-To Books Links Workshops About Contact