Home Donate New Search Gallery Reviews How-To Books Links Workshops About Contact
Canon 70-300mm DO IS
© 2014, 2007 KenRockwell.com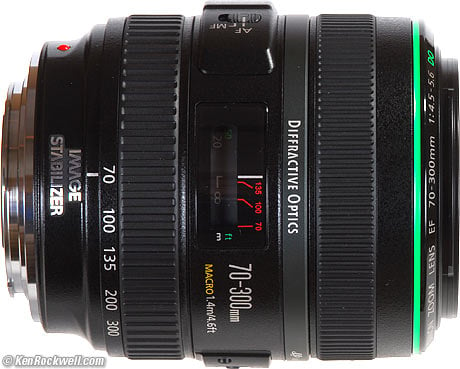 Canon EF 70-300mm DO IS f/4.5-5.6 (covers all formats, 58mm filters, 25.1 oz..713g, 4.6'/1.4m close focus, about $600 used). enlarge. I'd get it at this link directly to them at eBay (see How to Win at eBay) or for about $1,400 new at Amazon.
This free website's biggest source of support is when you use those or any of these links to approved sources when you get anything, regardless of the country in which you live — but I receive nothing for my efforts if you take the chance of buying elsewhere. I get no government hand-outs and run no pledge drives to support my research, so please always use any of these links to approved sources for the best prices, service and selection whenever you get anything. Thanks for helping me help you! Ken.
May 2014 Canon Reviews Canon Lenses All Reviews
Top Specs Performance Recommendations
The Canon 70-300mm DO IS is the world's first consumer zoom to use Fresnel lenses. Canon uses a green band around the front to denote a DO lens. Canon call this technology "Diffractive Optics" (DO) to avoid riling up unnecessary fear in laypeople familiar with Fresnel lenses' former use only in lighthouses, theatrical lighting and projector condensers.
The Canon 70-300mm DO IS is expensive because of this new technology. It has unusually good optics in an unusually small size. However, I find the rest of the lens' design, packaging and Image Stabilization system less attractive than other lenses, like the half-as-expensive non-DO version, as I explain at the end under Recommendations.
Good News:
1.) Short.
2.) Smooth and quiet auto and manual focus.
3.) Quite free from color fringes.
4.) Less distortion than similar range lenses at 70mm.
Bad News:
1.) Image Stabilization not good enough to give consistently perfect hand-held shots at 300mm at ISO 100 in daylight. The similarly priced Canon 70-200mm f/4L IS and half-priced Canon 70-300mm IS are much better.
2.) Balky, congested zoom ring. Needs a separate hand to zoom. Other lenses zoom more easily.
3.) Zoom is sensitive to elevation angle.
4.) Soft at close range at 300mm, wide open.
5.) Expensive, about $1,150 US as of July 2007.
6.) Corny 6-bladed diaphragm.
7.) Slow aperture. In actual use it's closer to f/5.6 throughout most of the zoom range than it is to f/4.
Technology
The Canon 70-300mm DO IS uses a sandwich of Fresnel (sawtooth cross section) surfaces so there's nothing to collect dust or cause weird flare problems.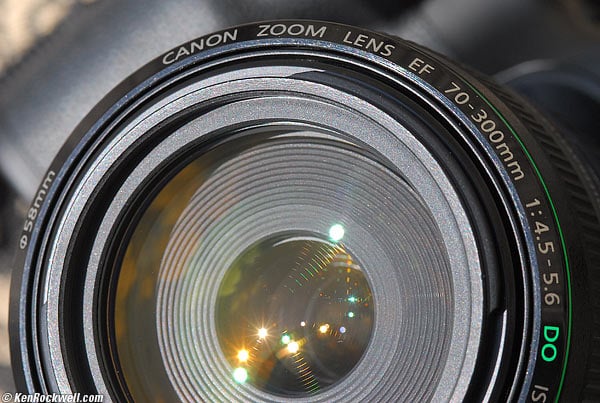 Concentric Fresnel Lines in the Canon 70-300mm DO IS (the spiderweb-like lines in the glass, not the ribbed black plastic behind it)
Augustin Jean Fresnel (1788 - 1827) invented the basis of this technology in 1822. He realized you could collapse a lens like a collapsible drinking cup, but unlike the cup, the lens would work the same but without all the glass and weight.
Canon perfected it for use in photographic optics, and if you look at reflections of objects around you in the front element (not shown above), you can see that Canon has created the equivalent of an extremely thick, heavily curved element whereas in fact there isn't one. This allow the use of extremely low dispersion glass, which also has a low refractive index. The low dispersion reduces color fringes, but the low refractive index also require thicker, more heavily curved elements.
Canon has done such a great job of bringing this technology to photography that it's almost impossible to see the rings. To see them in the photo above I had to shine the sun at just the right angle to highlight them. I saw no other effects in actual photography, just the benefits of getting the optical equivalent of a highly curved aspherical surface without the weight or former expense.
Top Introduction Performance Recommendations
Name: Canon calls this the Canon Zoom Lens EF 70-300mm f/4.5-5.6 DO IS USM.
EF: Electronic Focus. All modern Canon lenses focus with a motor in the lens.
DO: Diffractive Optics, which is Canon's name for Fresnel lenses, previously only used in projector light condensers.
IS: Image Stabilization, which means no tripod needed except at night. See Why IS Matters.
USM: Ultra-Sonic Motor: The focus motor operates silently.
Focal Length: 70-300mm. Used on a 1.3x camera it gives angles of view similar to what an 88-377mm lens would give on a 35mm film camera. On a 1.6x camera it gives angles of view similar to what an 114-486mm lens would give on a 35mm film camera. See also Crop Factor.
Maximum Aperture: f/4.5 - 5.6
Optics: 18 elements, 12 groups, including Fresnel (diffractive), fluorite and aspheric elements. Internal focus. Two front sections extend while zooming.
Diaphragm: 6 curved blades. Rounded to f/8, hexagonal by f/16. Stops down to f/32-40.
Filter Size: 58mm.
Close Focus: 4.6' or 1.4m from the image plane (the back of the camera), specified.
Maximum Reproduction Ratio: 1:0.19.
Infrared Focus Index? YES, at 70mm, 100mm and 135mm.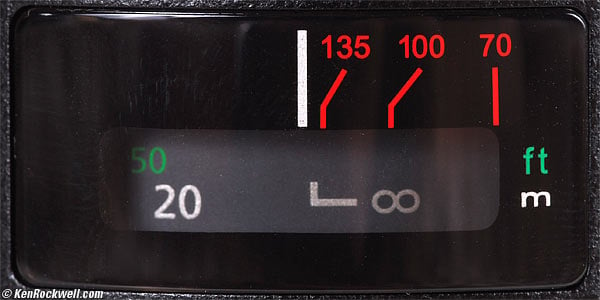 Canon 70-300mm DO IS Focus Scale.
Size: 3.236" diameter x 3.944" extension from flange (82.19 x 100.19 mm) at 70mm. Extends to 6.264" (159.1mm) at 300mm. Internal focus, no additional extension.
Weight: 25.140 oz. (712.7g), measured, naked.
Hood: ET-65B, included.
Case: LP1116, included.
Introduced: June, 2004.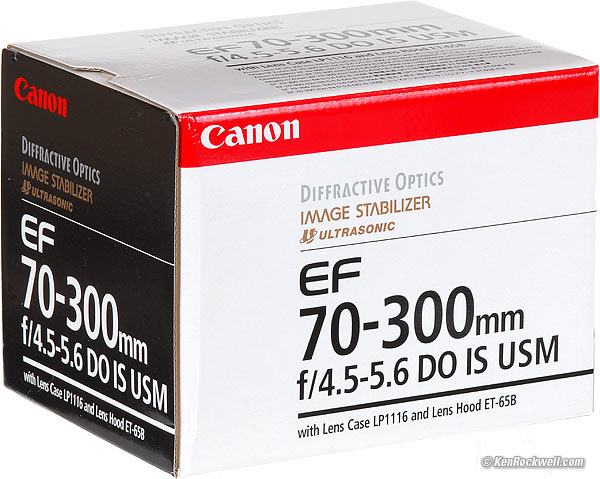 Top Introduction Specs Recommendations
Autofocus Bokeh Color Color Fringes Construction Distortion
Ergonomics Eyeblow Falloff Film Filters Flare Macro
Serial # Sharpness Sound Sunstars IS Zooming
FOCUSING back to Performance or back to Introduction.
The focus is fast and direct on my Canon 5D. It's almost as good on my Rebel XTi, but not always as accurate.
What Moves: Nothing, focus is internal.
Focus Distance Scale: Yes.
Depth of Field Scale: NONE.
Speed: AF speed, like almost everything else today from Canon, is faster than my own eyes.
Sound and Noise: Autofocus is almost silent.
Ease of Manual Focusing: Excellent, just grab the ring at any time, no need to move any switches. Unlike the zoom ring, manual focus is geared to be slow. Manual focus is very precise at 300mm, but might be a little too slow (but very precise) at 70mm.
Autofocus Accuracy
The good news is that it's always dead-on on my 5D, even wide open. I can get out-of-focus shots where the AF system simply makes mistakes on my Rebel XTi. If you use one of these on a Rebel, be sure it focuses accurately enough for you. It's fast, but sometimes misses on my Rebel XTi.
Focus Breathing
None.
Focus breathing is a motion picture term which refers to what happens as you pull (change) focus from near to far. I list this for people putting these lenses on their Canon XL-1s for shooting video.
The Canon 70-300mm DO IS could be a real winner for cinematography, since I see no focus breathing.
BOKEH back to Performance or back to Introduction.
Bokeh is good. Backgrounds are quite pleasant and undistracting. Canon never ceases to impress me, since I'm used to bad Bokeh from my aspherical Nikon lenses. Bokeh appears to be something which Canon rolls into the design equations, and Nikon doesn't, for their zooms.
COLOR FRINGES
(Lateral Chromatic Aberration or LCA)
back to Performance or back to Introduction.
The Canon 70-300mm DO IS is remarkably free of color fringes. It's approved by the PPLFPA, Professional Patio and Lawn Furniture Photographers' Association, with a grade of "A."
Here are complete guide images from my full-frame 5D from which the crops are taken:
| | |
| --- | --- |
| | |
| Full image, 70mm | Full Image, 300mm |
| | |
| --- | --- |
| | |
| 100% crop from 5D at 70mm, f/11 | 100% crop from 5D at 100mm, f/11 |
| | |
| --- | --- |
| | |
| 100% crop from 5D at 135mm, f/5.0 | 100% crop from 5D at 200mm, f/5.6 |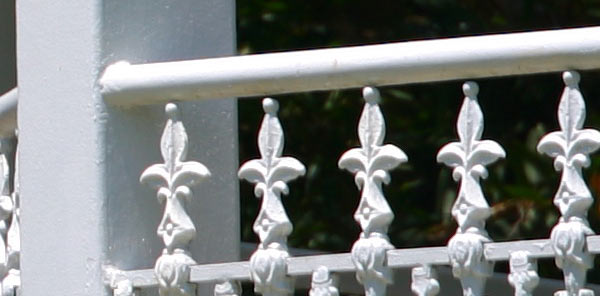 100% crop from 5D at 300mm, f/8
COLOR RENDITION back to Performance or back to Introduction.
I see no differences from my other Canon lenses.
back to Performance or back to Introduction.
Exterior: Plastic.
Filter Threads: Plastic.
Focus Ring: Rubberized plastic.
Markings: Paint.
Switches: Plastic.
Mount: Metal.
Internals: Metal with some plastic.
Noises when shaken: Lots of clicking, rattling and klunking. The Canon 70-300mm DO IS has a lot going on inside, and if you shake it, you'll hear it. This is normal.
Made in: Japan.
DISTORTION back to Performance or back to Introduction.
The Canon 70-300mm DO IS has a little less distortion than most other zooms at the wide end, and has about the same distortion throughout the rest of the range.
It's easy to correct in Photoshop CS2's lens distortion filter, and DxO appears to have a module for it.
| | |
| --- | --- |
| | |
| At 70mm, f/9, full-frame 5D | At 100mm, f/8, full-frame 5D |
| | |
| --- | --- |
| | |
| At 135mm, f/8, full-frame 5D | At 200mm, f/7.1, full-frame 5D |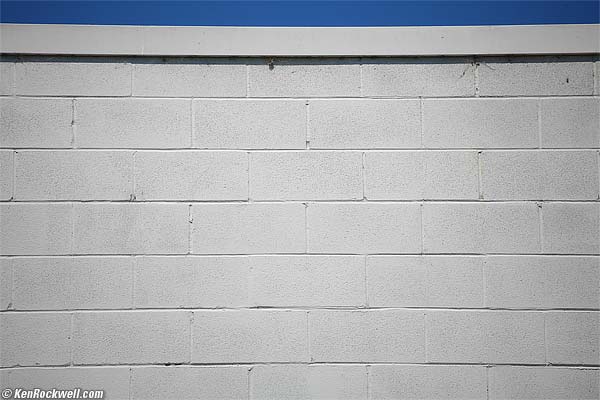 At 300mm, f/7.1, full-frame 5D
Plug these figures into Photoshop CS2's lens distortion filter to correct the distortion. These figures took me hours to calculate and are all © and registered, so please enjoy them in your photography, and you'll need permission to use these figures for anything else like incorporation into software or republishing. Thanks! Ken.
| | | |
| --- | --- | --- |
| | Full-frame camera at 50' (15m) | 1.6x camera at 50' (15m) |
| 70mm | +1.1 | +0.5 |
| 100mm | -1.2 | -0.2 |
| 135mm | -2.1 | -0.5 |
| 200mm | -3.0 | -0.5 |
| 300mm | -2.1 | -0.5 |
As you can see in my research above and as predicted by the crop factor, distortion is much less of an issue on a 1.6x camera. Here's the Wall of Shame with my Rebel XTi:
| | |
| --- | --- |
| | |
| | |
| | |
| --- | --- |
| | |
| | |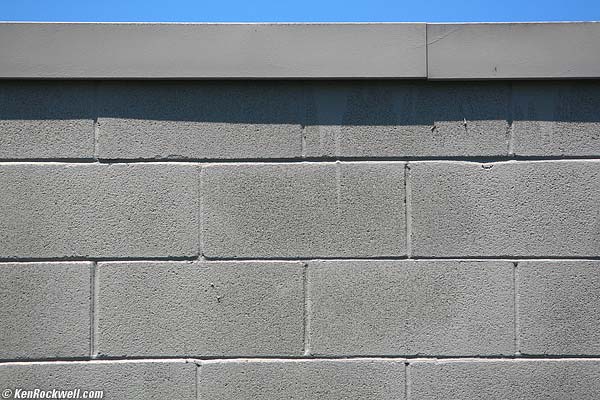 I'd never worry about distortion on a small format camera.
ERGONOMICS back to Performance or back to Introduction.
The zoom ring is stiff and has too short a travel for easy or precise zooming. The zoom ring can be difficult to operate if the camera is pointed up or down. More under zooming.
Autofocus is great, but the manual gearing may be too slow for some people. It's odd that focus is geared so slowly and zooming is so congested.
back to Performance or back to Introduction
Excellent; I see no problems.
back to Performance or back to Introduction.
There is a lot of glass sliding around inside the Canon 70-300mm DO IS as you zoom, and this blows air out the back of the lens, through my camera, and into my eye as I zoom quickly.
I get some eyeblow on my 5D, but not my Rebel XTi.
back to Performance or back to Introduction.
Falloff, or the corners getting dark, is a little better than average. There is the usual falloff wide open at the long end, and it's very mild everyplace else.
Here are shots of an Expodisc with my full-frame 5D. This would be completely invisible on a 1.6x camera. (see crop factor.) Shooting flat fields and laying them on another flat field exaggerates even the slightest falloff. You'll never see it this bad in normal photography.