USE WITH FILTERS back to Performance or back to Introduction.
I had no problems, even with thick rotating filters on my full-frame 5D.
If I pushed my luck with two fat rotating filters (my Hoya 77mm Circular Polarizer and Tiffen 0.6 ND rotating grad,13.7mm thick combined, excluding threads), I'd have to zoom to 35 - 50mm to eliminate any falloff on full-frame. You'd be fine on a smaller format camera.
Like most modern lenses, there's no need for expensive extra-thin filters.
FLARE AND GHOSTS back to Performance or back to Introduction.
Flare is fine. I had to do silly things to see flare or ghosts.
This is really pushing it: I'm shooting directly into blinding mid-afternoon California sun and contrasting it against very dark foregrounds. I never saw ghosts in real shooting.
MACRO back to Performance or back to Introduction.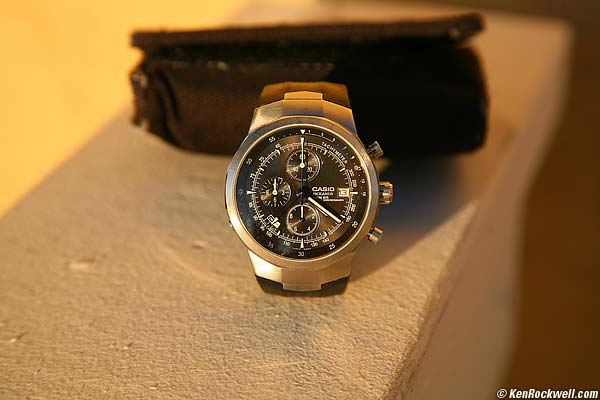 at closest focus at 105mm, full image, full-frame 5D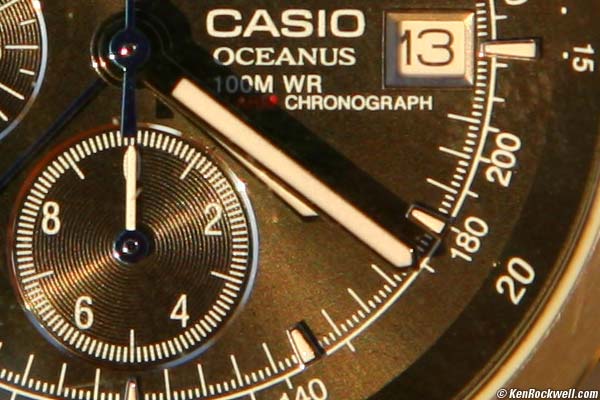 100% crop from above, no extra sharpening.
It works great, and gets as close as most other multipurpose lenses today.
On smaller format cameras it would have more magnification (see Crop Factor).
SERIAL NUMBER back to Performance or back to Introduction.
The serial number is engraved and filled with black paint on the mating flange of the lens mount.
SHARPNESS back to Performance or back to Introduction.
Sharpness is uniformly excellent, at any aperture and any focal length, even into the far corners on full-frame.
I'll skip you my usual sharpness chart, since I'm too lazy to type E - E - E a zillion times.
Distortion and falloff are trivial to correct with software today, so the reason I speak so highly of the Canon 24-105mm's optical performance is because I wasn't able to make an unsharp picture with it. Not only is it sharp itself, but its focus is uncannily perfect and IS makes it very hard to make an unsharp photo. We still can't properly fix unsharp photos electronically.
Your technique will be your biggest barrier to sharp photos. I have a page on How to Get Sharp Photos.
Diffraction is the sharpness-limiting factor for all lenses, especially digital SLRs, at about f/11 and above. See also How Sharpness Varies with Aperture.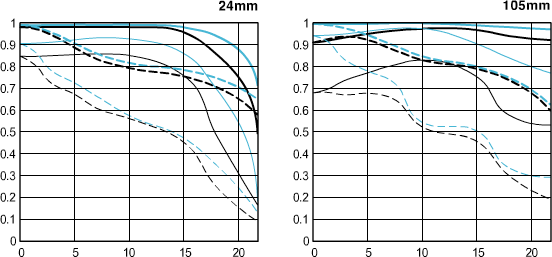 SOUND and NOISE back to Performance or back to Introduction.
IS is supposed to make noise; there are things vibrating around inside the lens if you listen closely. When IS is active, you'll hear a slight hissing if you put your ear to the lens or are in a quiet location.
Auto and manual focusing sounds like plastic sliding on plastic.
Zooming sounds like plastic sliding on plastic.
SUNSTARS back to Performance or back to Introduction.
Sunstars have eight points, caused by reflections off the edges of the eight-bladed diaphragm.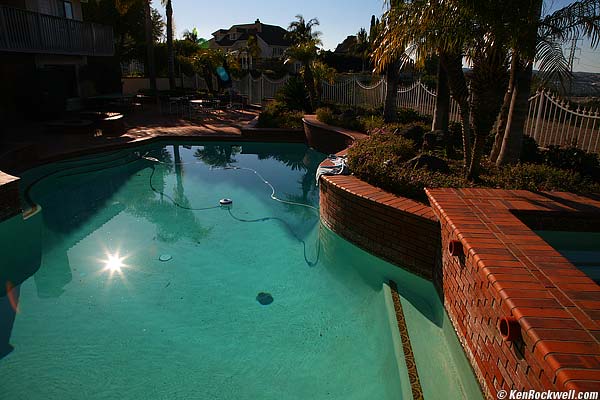 Sunstar and Pool, Orange County, California. Canon 24-105mm at 24mm and f/16.
back to Performance or back to Introduction.
IS works great! I get perfectly sharp shots 50% of the time at 1/4 second at any focal length. That means, on average, if I make about two shots for each shot, one of them will be perfectly sharp at 100% magnification on my 5D.
IS is supposed to make noise. It sounds like something is running inside the lens. You won't hear it outdoors, but listen for it in a quiet room and its obvious.
Read Why IS is Important to understand more about what these ratings mean.
This lists the percentage of sharp shots that I get with and without IS. The first figure is without IS, and the second is with IS.
| | | | | | | | | |
| --- | --- | --- | --- | --- | --- | --- | --- | --- |
| | 1 | 1/2 | 1/4 | 1/8 | 1/15 | 1/30 | 1/60 | 1/125 |
| 24mm | 0/15 | 2/20 | 5/85 | 20/100 | 40/100 | 90/100 | 100/100 | 100/100 |
| 50mm | 0/1 | 0/15 | 0/85 | 20/100 | 30/100 | 70/100 | 80/100 | 100/100 |
| 105mm | 0/0 | 0/0 | 0/50 | 2/75 | 15/85 | 40/95 | 50/100 | 80/100 |
TIP: In dim light, fire several shots in the continuous shutter mode and pick the sharpest later. Blur is a random event, so if you fire enough shots, you'll eventually get a sharp one even at much slower slower speeds! See the 15% sharp figure at 1 second at 24mm? That means, on average, one out of 6 shots at 24mm is perfectly sharp hand-held with IS ON at one full second!
Now let's chart the slowest speed to get 50% sharp shots at each focal length, and with that, we can calculate how many stops we gain with IS.
"Real Stops Improvement" are how many extra stops I got, IS On compared to IS Off.
"Marketing Stops Improvement" isn't comparing the speed I can use from IS OFF to IS ON, but instead comparing the speed one can use with IS ON to the old-wives-tale speed of 1/focal length. That's called Lying with Statistics, and that's par for the course for marketing departments. I can hold much slower than the old wives' tale speed.
IS Off

IS On

Real
Stops Improvement

Marketing
Stops Improvement

24mm

1/15

1/3

2-1/2

3

50mm

1/22

1/3

3

4

105mm

1/60

1/4

4

4-2/3
I have practice firing a camera smoothly. People with marksmanship, hunting and sniper skills do very well at this. If you jab the shutter, you won't get results this good, but you'll probably get the same number of stops improvement over how slow you would have been able to hold the camera using bad technique or with jittery hands.
ZOOMING back to Performance or back to Introduction.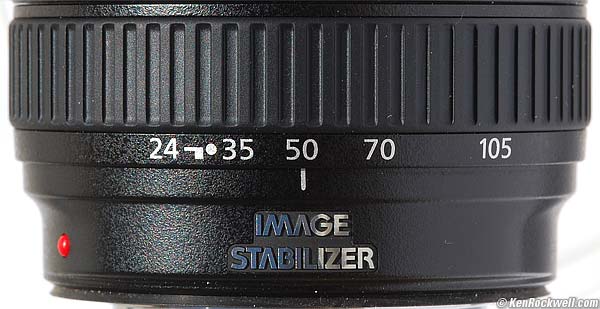 Canon 24-105mm f/4L Zoom Ring
The zoom range is cramped at the wide end, making it difficult to zoom precisely.
This is my biggest complaint with this lens. It's probably why I haven't bought one for myself, along with my personal dislike of mid-range zooms in favor of a wide and a tele zoom or an all-range lens like the Nikon 18-200mm.
It's well spread out in the top octave from from 50 - 105mm.
The range from 24 - 50mm is squeezed into half the space, and the range from 24 - 35mm is only about 1mm along the zoom ring: the distance between the bar to the right of 24mm to the dot to the left of 35mm! These focal lengths are so close that Canon couldn't fit the numbers on the ring so they had to put those little marks there instead! This makes it very difficult to select exact settings at the wide end.
Zoom lenses are not supposed to move in equal increments per millimeter. They are supposed to zoom in equal distances per percentage of focal length change. See also cm/octave.
Because the wide zoom range is so cramped, it makes it very difficult to use the range around 35mm. I find myself either pushing it against the stop at 24mm, or being out around 50mm.
Worse, it is very stiff, and it hurts my fingers trying to jam it around the wide end.
Call me a whimp, but other lenses like the cheap Canon 18-55mm EF-S do this much better. The Canon 24-105mm takes two firm fingers to zoom, while some other lenses can do it with a flick of a single finger.
Focus Shift while Zooming
Focus shifts while zooming.
Zoom before you focus.
Actual Focal Lengths
The focal lengths appear accurate at infinity.
As expected, the apparent focal lengths are reduced as one focuses closer at long focal lengths.
This is how IF (internal focus) lenses focus. They don't get longer on the outside: they move elements around inside to reduce the effective focal length to focus closer.
Compared top
Intro Specs Performance Compared Recommendations
NEW: All 24-70mm Lenses Compared.
Recomendations top
Intro Specs Performance Compared Recommendations
The optics are excellent, but I found the Canon 24-105mm f/4L IS difficult to use because of its cramped and stiff zoom ring.
Try one for a few hours before you keep one. If your fingers are fine, it's a fantastic lens. For me, it was just plain weird that my fingertips felt worn off and that I couldn't enjoy smooth, precise setting of wide focal lengths.
Get this 24-105mm for use on full-frame and 1.3x cameras. If you worry about distortion or light falloff, get the DxO software which eliminates it.
The 24-105mm probably isn't the best chose for a 1.6x camera. Get the Canon 17-55mm f/2.8 IS or 17-85mm IS instead, since they cover a more appropriate mid-range and you're not paying for format capacity unused with these smaller cameras.
The Canon 24-70mm f/2.8 L is better made and has a much better zoom system without the congestion at the wide end. If I was in the market for a miodrange zoom for my full-frame Canon, I'd get the 24-70mm instead. See them compared.
© Ken Rockwell. All rights reserved. Tous droits réservés. Alle Rechte vorbehalten.
Help me help you top
I support my growing family through this website, as crazy as it might seem.
The biggest help is when you use any of these links when you get anything, regardless of the country in which you live. It costs you nothing, and is this site's, and thus my family's, biggest source of support. These places have the best prices and service, which is why I've used them since before this website existed. I recommend them all personally.
If you find this page as helpful as a book you might have had to buy or a workshop you may have had to take, feel free to help me continue helping everyone.
If you've gotten your gear through one of my links or helped otherwise, you're family. It's great people like you who allow me to keep adding to this site full-time. Thanks!
If you haven't helped yet, please do, and consider helping me with a gift of $5.00.
As this page is copyrighted and formally registered, it is unlawful to make copies, especially in the form of printouts for personal use. If you wish to make a printout for personal use, you are granted one-time permission only if you PayPal me $5.00 per printout or part thereof. Thank you!
Thanks for reading!
Mr. & Mrs. Ken Rockwell, Ryan and Katie.
Home Donate New Search Gallery Reviews How-To Books Links Workshops About Contact