Home Donate New Search Gallery How-To Books Links Workshops About Contact
Canon SD940: Tiny!
28mm ~ 112mm 4x IS Zoom
2.7" LCD, 12MP, 720p.
© 2009 KenRockwell.com. All rights reserved.
Intro Specs Performance Recommendations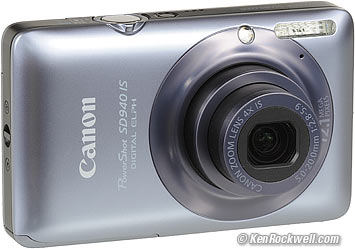 Canon SD940 IS (IXUS 120 IS), about actual size, 3-1/2 x 2-1/8." enlarge. I'd get it at Adorama (all kits and colors, or specifically in black, silver, brown or blue), at Amazon in black, silver, brown or blue, or at J&R or Calumet. It helps me keep adding to this site when you get yours through these links, thanks! Ken.
September 2009 More Canon Reviews
Introduction top
Intro Specs Performance Recommendations
The Canon SD940 is a tiny camera. Its tiny size isn't obvious until you see one for yourself. Small cameras have gotten even smaller than ever; its dwarfed by the SD880.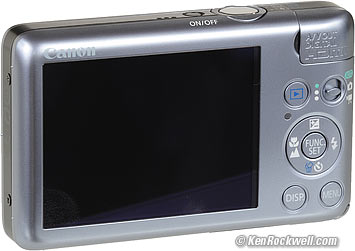 Rear, Canon SD940 IS, about actual size on a typical 106DPI monitor. enlarge.
The Canon SD940 is a six-month newer version of the microcompact Canon SD780. Each is small enough to hide behind a credit card.
This SD940 differs in having a wider lens that zooms even further (28-112mm vs. 33-100mm equiv.) and this SD940 has a slightly larger LCD, in exchange for no optical viewfinder.
Making it even smaller are its rounded edges. It floats away in your pocket. In fact, it's so tiny that it fits in the small accessory pockets on the outsides of my regular pockets in my hiking shorts!
The SD940 is well made with an all-metal exterior and switches.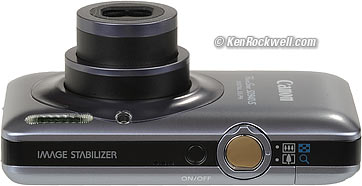 Top, SD940, about actual size. enlarge.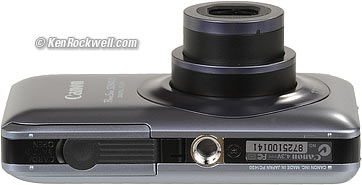 Bottom, SD940, about actual size. enlarge.
Picture quality and function are the same as other Canon powershots, although the larger Powershots do seem to make images a little cleaner, but hey, how does this SD940 photo hit you: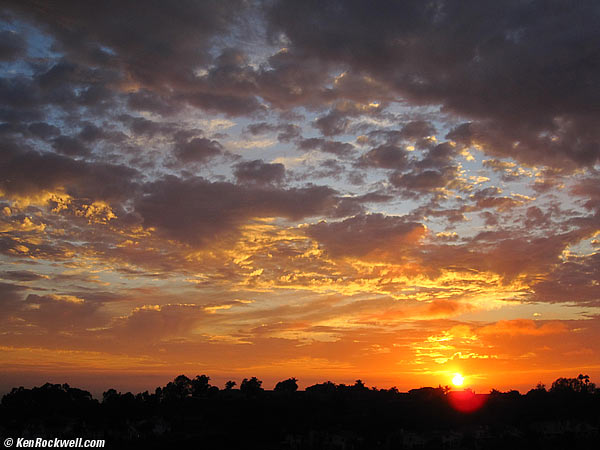 Sunset, 11 September 2009. enlarge.
As always, this is straight out of the camera, most likely set to -2/3 compensation and Vivid color.
No, it's images aren't quite as awesome as the SD980 if you're making 20x30" prints, but the SD980 doesn't fit in my tiny pockets either.
The SD940 is slower than other compacts when it comes to frame rate and how fast it can lock-on to a target. No pocket camera is fast enough for action or sports, and this SD940 is a little slower than others. For the scenic shots I make with it, that's not important.
Specifications top
Intro Specs Performance Recommendations
Lens
5 ~ 20mm, f/2.8 ~ 5.9.
Similar to a 28-112mm lens on a 35mm film or full-frame camera.
Close focus: 1 ft (0.3m) at wide setting and 1.6 ft (0.5m) at tele.
In macro mode: as close as 1.2" (3cm) at the wide setting. No closer at tele.
Optical Viewfinder
None, use the LCD.
Sensor
12MP.
1/2.3" CCD.
File Types
JPG for stills.
MOV for video.
Image Sizes
4,000 x 3,000 pixels (12MP) native.
4,000 x 2,248 (cropped wide), also reduced sizes of:
3,264 x 2,448 (8MP, M1),
2,592 x 1,944 (5MP, M2),
1,600 x 1,200 (2MP, M3),
640 x 480 (S).
Video
1,280 x 720 @ 30 fps
640 x 480 @30 fps
320 x 240 @ 30 fps.
Clip length: up to 4GB, or 10 minutes, in HD 720p. Up to 4GB or 60 minutes in 640 or 320.
ISO
Auto, 80, 100, 200, 400, 800 and 1,600.
ISO 3,200 in a trick scene mode, which looks pretty bad.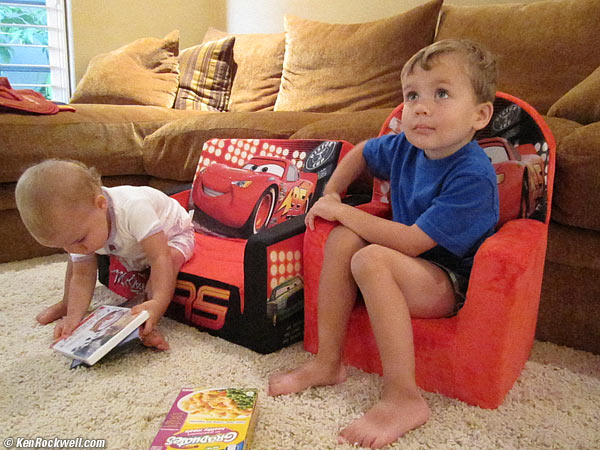 Katie and Ryan, August 2009, ISO 3,200. original file.
Shutter
15 seconds ~ 1/1,500.
You find the long exposures in a scene mode with an icon of the moon and two stars called Long Shutter. You find it in the same place as the default "P," program, setting.
Frame rate: 0.8 FPS repetitive.
LCD
2.7."
Full-height 3:4.
230,000 dots.
Memory
SD and SDHC cards.
Also MultiMediaCards, MMCplus cards and HC MMCplus cards, whatever they are.
Outputs
USB 2, mini B jack.
Mini HDMI.
Analog NTSC or PAL.
Mono analog sound.
Environmental
32º F ~ 104º F (0º ~ 40º C).
10 ~ 90% RH.
Size
3.52 x 2.16 x 0.79 inches.
89.5 x 54.9 x 20.0 millimeters.
Weight
Measured: 4.935 oz. (139.9g), complete with battery and SD card.
Specified: 4.23 oz. (120g), stripped without battery or card.
Battery (included)
NB-4L rechargeable Li-ion.
3.7V, 760mAh.
Charger (included)
CB-2LV G.
100~240VAC, 50/60 cps input for world travel; just bring passive plug adapters.
Dark blue plastic.
It's tiny, about the same size as the camera but even lighter.
It has a fold-out plug.
Introduced
19 August 2009.
Performance top
Intro Specs Performance Recommendations
The Canon SD940 is a tiny camera that can make swell images.
Just like any compact, it's not good for trying to get photos of anything that moves, like kids or sports, but it's a fantastic camera if it's all you have with you.
I prefer the results from a (hee hee) full-sized compact like the SD980, but hey, if this is all your talented girlfriend wants to carry, she'll be able to take better pictures with this SD940 than anyone lacking talent can with any camera.
Lens
The 4x is zoom is swell.
It has a wickedly aspherical front surface.
Lens Distortion
If you worry about straight lines, the SD940 is pretty good.
Canon plays an internal trick and automatically corrects the lens distortion at the wide end. How do we know, since this is a trade secret? Easy: when shooting a sunset with a sun so bright that it caused vertical bloom (smear), I was perplexed at how the vertical smear was curved at the wide setting. Then I realized that the automatic correction was bending the CCD image before it was displayed or recorded, and the only hint of that is that the bloom was also bent!
There is still some distortion left at the widest setting, which goes away at the longer settings.
If you need this for precise work, use +3 at the wide end in Photoshop's Lens Distortion tool, and nothing at the long end.
Lens Sharpness
The lens is plenty sharp for a 12MP camera.
As always, the smoothing from noise reduction, even at ISO 80, is the biggest limit to sharpness.
Ergonomics
The SD940 feels nice in my pocket all day and night.
The LCD is never completely clear of some sort of data while shooting, but this is common on point-and-shoots.
The menus often suffer from priapism, meaning that they don't always go down when you want them to.
If you hit FUNC to set things, and don't work your way out of the menu system as the SD940 would like you to, tapping the shutter may make them go away for a moment, but as soon as you're done with that picture, the FUNC SET menu pops back up where you left it!
If designed properly, those menus would vanish as soon as you tapped the shutter and never come back again until you asked for them.
Controls
The SD940 has plenty of buttons for fast control.
The buttons are flat, so they aren't as easy to locate by feel.
The power switch is a tiny button that's sometimes hard to find.
There is a dedicated exposure compensation button, which is a great help.
There is no scroll wheel.
The SD940's biggest flaw is Canon's newer control system that uses a semi-sucky one-dimensional control interface when you hit the FUNC button to adjust the SD940.
For instance, to set the exposure compensation (lightness or darkness of the photo), you have to press FUNC, click down two to +/-, click right, then click up or down to set, and click FUNC a couple of more times. Worse, you have to click up for darker and down for lighter! If you mess up anything in this complex series of clicks, you just missed your photo.
Other larger Canons like the older SD880 and newer S90 have a smarter menu system.
The better-controlled Canons always return you to where you last left their menu system. That means on other cameras if you last adjusted WB, that when you hit FUNC again, you're still able to adjust the WB directly. Not with the SD940: the next time you hit FUNC, you're back at controlling the shooting mode (your choice of Program, portrait, etc.) and have to navigate back to what you wanted, which for me is usually exposure compensation.
I sometimes had to hit the MACRO mode to focus close. On other Canons, I often only have to hit that it get closer than a few inches, but on the SD940, I seemed to need to hit it to get closer than about a foot.
LCD, Touch Screen and Playback
The SD940's full-height LCD is bigger than other, larger Canons with chopped LCDs! Its as big as can fit on this tiny camera; I love it.
The LCD is anti-reflection coated. It's reasonably resistant to fingerprints.
A first for Canon, I can mute the sounds but still be able to play movies, yay! Earlier Canons turned off movie playback sound if you muted the stupid shooting beeps.
Data
Automatic new folder creation just got smarter: each one is labeled with month and date, for instance, September 16th is labeled as 0914.
For me, this is a huge time saver. I copy all the folders onto my Mac, and they are already broken out by date.
Battery Life
Battery life is great. I was never able to run it down before I could forget when I last charged it.
Mechanics
Most of the SD940's exterior covers and buttons are metal.
There are tiny tits on the bottom and side for setting the SD940 on a table for level horizontal or vertical shots.
Recommendations top
Intro Specs Performance Recommendations
The SD940 is a great choice for a tiny camera that can make big images.
I'd use it all the time, although if I was going away on a dedicated photo trip I'd take a slightly bigger SD980 instead for its higher technical image quality. This SD940 actually is easier to use: it has better ergonomics and a much better and bigger LCD (the SD980's LCD is chopped on the top and bottom, so it actually has fewer usable pixels and smaller effective image size).
For sports, kids and action, you need a real SLR like a Nikon D40 or Digital Rebel T1i, but for anything that holds still, the SD940 is a fantastic choice to replace an SLR system.
More Information: Canon USA's product page.
Help me help you top
I support my growing family through this website, as crazy as it might seem.
If you find this as helpful as a book you might have had to buy or a workshop you may have had to take, feel free to help me continue helping everyone.
If you've gotten your gear through one of my links or helped otherwise, you're family. It's great people like you who allow me to keep adding to this site full-time. Thanks!
If you haven't helped yet, please do, and consider helping me with a gift of $5.00.
The biggest help is to use these links to Adorama, Amazon, Calumet, Ritz and J&R when you get your goodies. It costs you nothing and is a huge help. These places have the best prices and service, which is why I've used them since before this website existed. I recommend them all personally.
Thanks for reading!
Ken
Home Donate New Search Gallery How-To Books Links Workshops About Contact