Home Donate New Search Gallery Reviews How-To Books Links Workshops About Contact
Canon 5D Mark III
From the Press Release
© 2012 KenRockwell.com. All rights reserved.
5D Mk III Review: Specs Acc'ys Performance Recommendations More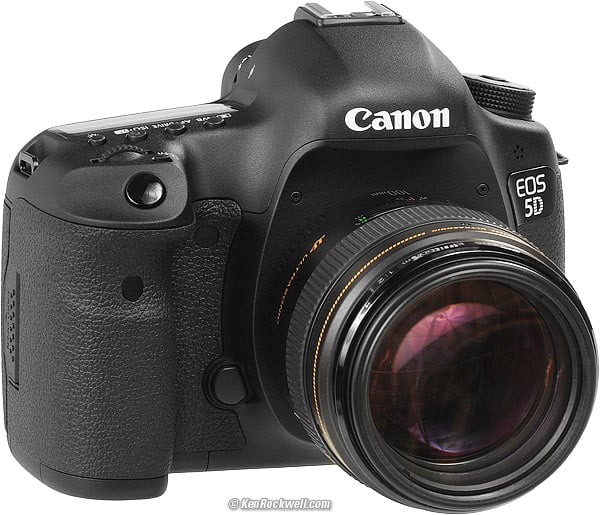 Canon 5D Mark III (33.5 oz./950g) and 100mm f/2 USM. enlarge. I've already ordered mine from Adorama, have you got yours? Adorama also offers a kit with the 24-105 IS for $4,299. B&H is also accepting hard orders for the Mark III body as well as this kit, as is Amazon, who also sells the kit, and Ritz. Using those and these links to get yours, regardless of the country in which you live, is this free website's biggest source of support.
02 March 2012 Canon 5D Mark III Review Canon Reviews Other reviews
On the 25th anniversary of its world-renowned EOS System, Canon U.S.A., Inc., a leader in digital imaging solutions, is proud to announce its latest model, the new EOS 5D Mark III Digital SLR Camera. Positioned between the extremely popular EOS 5D Mark II and Canon's top-of-the-line professional EOS-1D X model, the EOS 5D Mark III delivers superb image quality, thanks to a new 22.3-megapixel full-frame Canon CMOS sensor, a high-performance DIGIC 5+ Imaging Processor, a 61-point High Density Reticular Autofocus (AF) System and six frames-per-second (fps) continuous shooting speed. Building upon the trailblazing success of the EOS 5D Mark II, the EOS 5D Mark III also incorporates enhanced video features for professionals in the fields of cinematography, television production and documentary filmmaking, including better noise reduction, longer recording times and a built-in headphone jack for audio monitoring. The EOS 5D Mark III is Canon's answer to hundreds of thousands of advanced amateurs and emerging professionals looking for a compact, high-quality camera system to help them achieve their artistic vision, whether it be through still or video imagery. The EOS 5D Mark III introduction coincides with Canon's 25th anniversary celebration of the EOS camera system. Canon's award-winning EOS system first debuted in March of 1987 with the introduction of the EOS 650 SLR camera and three EF lenses.
"We are extremely excited to announce the highly anticipated follow-up to our EOS 5D Mark II, a camera which has been called a 'game-changer' in most professional photography and videography circles. The EOS 5D Mark III will carry on that tradition, delivering better and more advanced features, helping our customers achieve excellent image quality for stills and video," stated Yuichi Ishizuka, executive vice president and general manager, Imaging Technologies and Communications Group, Canon U.S.A.
The EOS 5D Mark III inherits many features from Canon's recently announced flagship DSLR, the EOS-1D X, including a DIGIC 5+ Imaging Processor and a high-performance 61-point High Density Reticular AF array with up to 41 cross-type points and five dual cross-type points available, depending on the lens in use. The enhanced processing power enables fast continuous shooting of up to six fps, exceeding the speed of the EOS 5D Mark II model by more than 50 percent, and with improved weather resistance the EOS 5D Mark III is a serious option for sports and wildlife photographers.
The EOS 5D Mark III features a new Creative Photo button, which enables users to quickly select Picture Styles and capture multiple exposures, as well as offering direct access to the HDR shooting mode. In playback, pressing the Creative Photo button displays a new comparative playback function, displaying two images side-by-side to allow photographers to view, magnify and compare the quality of different exposures mid-shoot.
For situations where photographers want to avoid being noticed, such as weddings, the EOS 5D Mark III also features a new silent shooting mode that dramatically reduces the sound of the shutter and mirror, ensuring they can work quietly in the background. A continuous silent mode is also available, enabling photographers to capture fastermoving subjects without attracting attention.
The EOS 5D Mark II blazed the trail for EOS cameras and Canon to enter the professional video and cinema markets, paving the way for Canon's recent introduction of the Cinema EOS system of cameras and lenses. Now, the EOS 5D Mark III continues Canon's commitment to these new markets with new and requested features from cinematographers, television production professionals and independent filmmakers. This new model captures 1080p Full HD video at 24p (23.976), 25p, and 30p (29.97) fps; 720p HD recording at 60 (59.94) and 50 fps; and SD recording at 30 (29.97) and 25 fps, giving cinematographers and videographers more flexibility and options for video capture.
The EOS 5D Mark III includes new H.264 video compression formats to simplify and speed up post-production work: intraframe (ALL-I) compression for an editing-friendly format and interframe (IPB) compression for superior data storage efficiency, giving professionals options to help achieve their ideal workflow. Like the EOS-1D X, the 5D Mark III also includes two methods of SMPTE-compliant timecode embedding, Rec Run and Free Run, allowing video footage from multiple cameras and separate audio recordings to be synced together in post production.
The new full-frame CMOS sensor and DIGIC 5+ processor have enhanced the camera's image processing performance over the 5D Mark II, significantly reducing moiré and color artifacts in scenes with horizontal lines. The video footage produced will exhibit less moiré than seen in previous DSLR models, resulting in a significant improvement in HD video quality. Accommodating documentary filmmakers, and event videographers using EOS DSLR cameras, the 5D Mark III includes the ability to record video continuously up to 29 minutes and 59 seconds across multiple 4GB files. Long-form filmmakers will enjoy the camera's automatic file splitting in combination with the extended memory capacity offered by dual card slots.
The Canon EOS 5D Mark III also includes manual audio level control with 64 levels, adjustable both before and during movie recording. There is also an automatic audio level setting, or sound recording can be turned off entirely. A wind filter is also included. Sound can be recorded either through the internal monaural microphone or via an optional external microphone through the stereo mic input. Notably, the EOS 5D Mark III is the first EOS Digital SLR to feature a built-in headphone jack for real-time audio monitoring during video capture.
New Sensor
With its completely new 22.3-megapixel full-frame Canon CMOS image sensor, the EOS 5D Mark III becomes the highest resolution Canon Digital SLR released to date. It is eminently suitable for a wide variety of assignments including weddings and portraits, nature and wildlife, travel and landscapes as well as commercial and industrial photography. With a gapless microlens design, a new photodiode structure and improved on-chip noise reduction, the new sensor achieves higher sensitivity and lower noise levels for both RAW image data as well as in-camera JPEGs and EOS Movies compared to the 5D Mark II. The result is outstanding image quality in all shooting conditions, even low light. An eight-channel readout doubles the speed of image data throughput from the sensor to the DIGIC 5+ processor, resulting in better video image quality as well as six fps for still photos.
The low-light capability of the EOS 5D Mark III is evident in its incredible ISO range and image quality in poor lighting conditions. Adjustable from ISO 100 to 25,600 within its standard range, the new model also offers a low ISO 50 setting for studio and landscape photography and two extended ISO settings of 51,200 and 102,400, well suited for law enforcement, government or forensic field applications.
The new 5D Mark III is also equipped with Canon's EOS Integrated Cleaning System, featuring a Self Cleaning Sensor Unit with a fluorine coating that repels dust and schmutz.
New DSP Processor
The increased power of DIGIC 5+ also enables a range of tools which contribute to higher image quality. Lens peripheral illumination correction, Lens chromatic aberration correction (lateral and axial) and high ISO noise reduction are all performed in-camera without affecting performance, allowing photographers to continue shooting without any camera lag. Additionally, in-camera image rating via a dedicated button makes it easy for photographers to organize images ahead of post-production.
The EOS 5D Mark III's new DIGIC 5+ Imaging Processor is 17 times faster than the DIGIC 4.The EOS 5D Mark III uses that extra speed not only for improved image quality, but also to add no less than nine new features that do not exist on the 5D Mark II. These new features include six fps continuous shooting, HDR and Multiple Exposure modes, in-camera RAW processing, a comparative playback function, Scene Intelligent Auto mode, two forms of movie compression, and support for high-speed UDMA 7 Compact Flash memory cards.
Another extremely valuable feature enhanced by the DIGIC 5+ Imaging Processor is the EOS 5D Mark III's choice of reduced resolution M-RAW (10.5 megapixel) and S-RAW (5.5 megapixel) recording modes. These settings are particularly useful to wedding photographers for candid photos that do not require the EOS 5D Mark III's 22 megapixel full resolution, because they take up less space on the memory cards and speed up post-processing without losing the critical benefits of RAW image data, such as highlight and shadow control as well as white balance adjustment. M-RAW and S-RAW also preserve the full field of view rather than cropping the image or resorting to JPEG mode to reduce resolution. (That last line is Canon spinning FUD to hide the fact that the 5D Mk 3 has no in-camera cropping ability for professional aspect ratios, like 5:4, as do many Nikons.)
New AF system
For still photographers, Canon has included its new 61-point High Density Reticular AF System, the same as in the top-of-the-line EOS-1D X professional camera. A significant advancement over previous 5D-series AF systems, the new 61-Point High Density Reticular AF included in the EOS 5D Mark III is the most sophisticated SLR AF system Canon has ever released. All 61 points are manually selectable and sensitive to horizontal contrast with maximum apertures larger than or equal to f/5.6. The camera's twenty one focusing points in the central area are also standard precision cross-type and effective with maximum apertures larger than or equal to f/5.6. The center five points are ultra-high-precision diagonal cross-type points for maximum apertures larger than or equal to f/2.8. The 20 outer focusing points function as high-precision cross-type points with maximum apertures larger than or equal to f/4.0. Other innovations of the new 61-point High Density Reticular AF include expanded AF coverage area, superior focusing precision and low-light sensitivity to EV -2, and greater low-contrast subject detection capability compared to earlier EOS AF systems. (See image below for AF point configuration)
All AF functions now have their own menu tab for quick and easy access (formerly AF custom functions in previous EOS models). A new AF Configuration Tool allows for customized setting of tracking sensitivity, the acceleration and deceleration of tracking subjects, and AF point auto switching, all of which are easily accessed and adjusted via the new AF menu tab. A built-in Feature Guide advises photographers on which settings to use according to subject matter.
The EOS 5D Mark III uses the same high-performance AI Servo III AF tracking algorithm as the flagship EOS-1D X professional DSLR. This new feature works together with the 61-point High Density Reticular AF system to provide superb tracking performance that blends very well with the new camera's 6 frames-per-second high-speed continuous shooting capabilities.
Similar to the AF point selection options offered in the EOS 7D and EOS-1D X camera models, the EOS 5D Mark III offers six AF point selection modes: Spot, Single Point, Single Point with surrounding four points, Single Point with surrounding eight points, Zone selection and Automatic AF point selection.
Metering
Complementing the EOS 5D Mark III camera's 61-point AF system is Canon's 63-zone iFCL dual layer metering system. The 'FCL' stands for 'Focus, Color and Luminance,' and references the fact that the metering system not only measures color and luminance data, but also analyzes the data provided by each point of the AF system. Canon's iFCL metering keeps exposure levels stable from shot to shot, even as the light source changes, just as every other auto exposure camera has done since the 1950s. The camera's autofocus information is also used to help determine which area of the scene is of greatest importance in determining exposure.
HDR
The EOS 5D Mark III camera features a built-in HDR mode, merging three images at various exposure levels into a single image, in-camera, for stunning photographs of landscapes and architecture with enhanced tonal gradation beyond the range of the naked eye. The exposure levels in the camera's HDR mode can be set to cover a range of up to ±3 stops, in a choice of five settings: Natural, Art Standard, Art Vivid, Art Bold and Art Embossed providing unique visual effects. Individual source images can be saved as separate files, and the HDR mode has an optional automatic alignment function that can be useful for hand-held shooting. The EOS 5D Mark III's standard Auto Exposure Bracketing function has been upgraded to allow for up to seven exposures per sequence, and exposure compensation can now be set for up to ±5EV.
Multiple Exposures
The EOS 5D Mark III is the second EOS Digital SLR after the EOS-1D X to feature Multiple Exposure capabilities with the ability to combine up to nine individual images into a single composite image, with no need for post-processing in a computer. Four different compositing methods are provided for maximum creative control, including Additive, Average, Bright and Dark. Compositing results can be viewed in real time on the camera's LCD monitor, and there is a one-step Undo command that allows photographers to delete an image and try again if desired. The EOS 5D Mark III camera's Multiple Exposure mode even allows photographers to specify a previously captured RAW image as the starting point for a new Multiple Exposure composite image, or shoot continuously when photographing moving subjects.
Side-by-Side (2-up) Comparison Playback
A new feature seen for the first time in the EOS System on the 5D Mark III is Comparative Playback allowing photographers to display two images side by side on the camera's 3.2-inch LCD screen. The images can be displayed with a histogram to check exposure levels, or magnified to check for focus or facial expressions.
New Computer Software
The EOS 5D Mark III comes complete with the most advanced version of Digital Photo Professional (DPP) yet – Canon's free, in-box software enabling high-speed, high quality processing of RAW images. New in DPP v3.11 is Digital Lens Optimizer – a revolutionary new tool designed to drastically improve image resolution.
Digital Lens Optimizer (DLO) precisely imitates lens performance, with a series of complex mathematical functions replicating each stage of the journey of light through the optical path. Using this information DLO can correct a range of typical optical aberrations and loss of resolution caused by a camera's low pass filter, by applying an inverse function to each shot to take the image nearer to how the scene appears to the naked eye. This creates exceptionally detailed, high-quality images with highly manageable file sizes, providing photographers with maximum image quality and greater flexibility.
But wait, there's more!
The EOS 5D Mark III features a rugged camera body with magnesium alloy body covers and a stainless steel lens mount. The new camera also has dust- and moisture-resistant design with improved gaskets and seals. Although not quite as weatherproof as an EOS-1D-series camera, the EOS 5D Mark III does feature improved weather resistance over the EOS 5D Mark II model. The EOS 5D Mark III's newly developed shutter unit has a durability rating of 150,000 exposures, and shutter release lag time has been reduced to 59 milliseconds, making the shutter button very responsive. Canon's locking mode dial is standard on the new model and a new custom function allows photographers to shut off other dials to prevent inadvertent operation.
The EOS 5D Mark III uses the same LP-E6 lithium-ion battery pack as other popular EOS cameras like the 5D Mark II, 7D and 60D. Battery life is estimated at 950 exposures at normal temperatures, an improvement of 100 exposures more than the EOS 5D Mark II. The EOS 5D Mark III body weighs approximately 33.5 oz. with a battery installed, and the dimensions are approximately 6.0 x 4.6 x 3.0 inches.
The EOS 5D Mark III incorporates Silent shooting modes, available for low-speed continuous shooting as well as single exposures. This feature is ideal when photographing in quiet environments. For better file management especially when working with multiple cameras, the new model also supports custom file names. There is also a new image rating feature that lets photographers rank their photos from 1 to 5 stars for quick editing.
The EOS 5D Mark III features a 3.2-inch Clear View II LCD screen with 1,040,000 dot resolution. This is the same screen that's used in the top-of-the-line EOS-1D X. The camera's optical viewfinder has been upgraded to approximately 100 percent coverage, and it features an Intelligent Viewfinder display with an optional grid on demand. The EOS 5D Mark III also has a built-in Dual Axis Electronic Level that can be displayed on both the LCD screen and the optical viewfinder.
The EOS 5D Mark III accepts both Compact Flash Type 1 and SD/SDHC/SDXC memory cards in a dual card slot configuration. Three recording methods are supported: Record the same data to both cards, record different file sizes or types to each card, or automatically switch to the second card when the first card is full.
Prices and Delivery top
5D Mark III: end of March 2012, $3,499.00.
5D Mark III with 24-105mm f/4L IS USM: end of March 2012, $4,299.00.
Wireless File Transmitter WFT-E7A: end of April 2012 , $849.99.
GPS Receiver GP-E2: end of April 2012, $390.00.
Battery Grip BG-E11: end of April 2012, $490.00.
600EX-RT flash: end of March 2012, $629.99. ($630 for a flash? They must be kidding.)
Flash control transmitter ST-E3-RT: end of March 2012, $470.00.
Back to Canon 5D Mark III Review.
Help me help you top
I support my growing family through this website, as crazy as it might seem.
The biggest help is when you use any of these links when you get anything. It costs you nothing, and is this site's, and thus my family's, biggest source of support. eBay is always a gamble, but all the other places always have the best prices and service, which is why I've used them since before this website existed. I recommend them all personally.
If you find this page as helpful as a book you might have had to buy or a workshop you may have had to take, feel free to help me continue helping everyone.
If you've gotten your gear through one of my links or helped otherwise, you're family. It's great people like you who allow me to keep adding to this site full-time. Thanks!
If you haven't helped yet, please do, and consider helping me with a gift of $5.00.
As this page is copyrighted and formally registered, it is unlawful to make copies, especially in the form of printouts for personal use. If you wish to make a printout for personal use, you are granted one-time permission only if you PayPal me $5.00 per printout or part thereof. Thank you!
Thanks for reading!
Mr. & Mrs. Ken Rockwell, Ryan and Katie.
Home Donate New Search Gallery Reviews How-To Books Links Workshops About Contact