Home Donate New Search Gallery Reviews How-To Books Links Workshops About Contact
Sony TC-KA3ES
3-Heads, Dual-Capstan, (1996-2001)
Dolby HX Pro, B, C, and S:
The World's Greatest Cassette Deck
© 2012 KenRockwell.com. All rights reserved.


Sony TC-KA3ES. larger.

Sony TC-KA3ES. larger. (3 heads, dual capstans, Dolby B, C and S, about $500 used). bigger. This free website's biggest source of support is when you use these links, especially this link directly to them at eBay (see How to Win at eBay), when you get anything, regardless of the country in which you live. Thanks! Ken.
December 2012 All Reviews > Audio Reviews > Sony Reviews
Recommended New Blank Tapes:
Few, if any high-quality cassette tapes are still made today, but there are plenty of deals to be had in top-notch leftover tape from the 2000s.
Feel free to pay $5 to $50 or more per tape over eBay for old TDK MA, TDK SA, Maxell MX and Maxell UDXL II (follow these links to each tape type), but unless you prefer the better packaging of 1970s ~ 1990s tapes, the current tapes below give me the same or better sonic results with the TC-KA3ES' superb ability to calibrate quickly and perfectly to just about any tape. All of these tapes will work great, even with Dolby C's stringent requirements for level and EQ calibration:
Sony XR60 Metal (Type IV, metal) (recent production, made by Sony in France)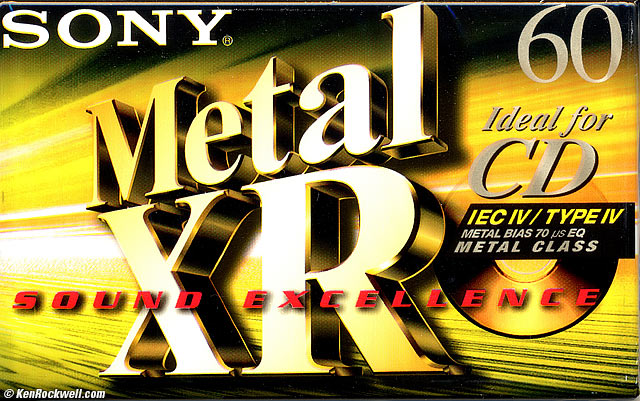 Sony XR60 (France).
These French-made Sony tapes work great, with undistorted peaks up to +8 dB for piano music, and very little bias or modulation noise.
These are the highest audio quality tapes available today. They have mu-metal sheilds over the head area.
If you need longer lengths like C-90 for this tape, just buy more and split between two tapes. The thicker C-60 length tape reduces print-through and has other benefits, and these tapes are so inexpensive and good that I've standardized on them. You can buy a box of ten for less than some people pay for used old metal tapes over eBay!
TDK SA90 (Type II, CrO2) (recent production, made by Imation in Korea).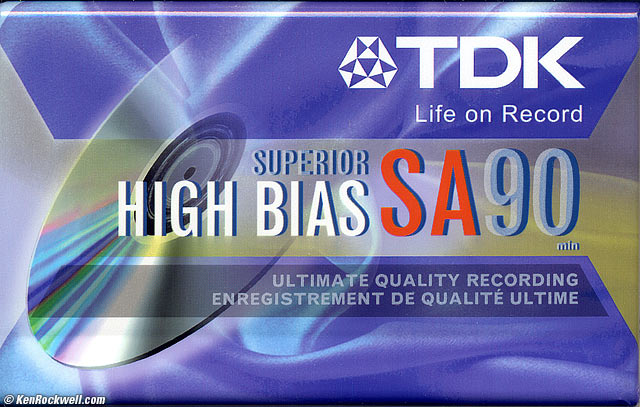 TDK SA90 (Korea).
This iteration of TDK SA isn't packaged anywhere near as well as classic TDK SAs, however they sound great.
These latest TDK SAs have no mu-metal sheilds over the head area.
Maxell UR60, UR90 and UR120 (Type I) (current production, Indonesia)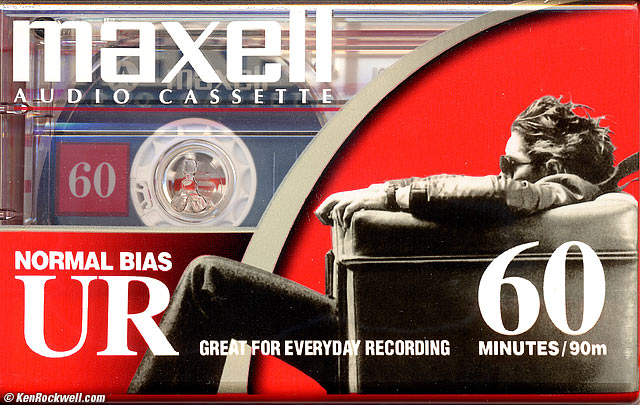 Maxell UR60 (Indonesia).
These penny-stock Maxells are still being made for office and portable use, and you usually even find them at drug stores if you're in a pinch (they're much cheaper at Amazon). These cheap dictation tapes have no mu-metal shields over the head area.
The TC-KA3ES easily calibrates to these dictation-grade tapes for flat frequency response even with Dolby C.
While their modulation noise and surface finish isn't as good as the above tapes leading to slightly less clean sound if you're using only Dolby B and monitoring carefully over electrostatic headphones, with most music and conventional speakers like B&W Diamonds or Wilsons, the TC-KA3ES can make great-sounding tapes with only Dolby B if you get stuck. Pop on Dolby S, and even these dictation cassettes, once calibrated in a moment with one dial-dot less bias and one dial-dot more record level, sound great.
Performance and Operation top
Performance & Operation Specs More
The Sony TC-KA3ES is the world's best cassette deck, as of 2013.
Last best cassette deck
Forget Studer Revox
I they love LPs, they'll wet Their pants with tape
Manual calibration nicer
Champagne also
Cassette never a serious medium anyway; always casual and car so I'm baffled as to why people ever, and today, would throw so much
money at a cassette deck.

DAT costs less!
3 head
2 capstan
Continuous HF EQ
LA laser amorphous heads - extended LF
B, C, S, HX
MM:SS counter
?motorized tape load?
DAT by mid 1990s then CD recorders by 1999
Try type I tape: Music has no dynamics anymore today anyway.
metal REC level knobs
Use playlists from iTunes DAC
----
Sheet metal door
Ignores transport controls sans tape
Loads tape and Punches-up tape monitor when you open door, drop in tape, and press play. No need to press close.
press rewind while playing or recording, and goes straight to rewind
Tap REC to get ready and paused, PLAY or PAUSE to roll. Only complaint is I wish it monitored TAPE instead of SOURCE as you start rolling.
Zero clicks for cal
Multiplexed meters,
Solid back light
Clik-click monitor switch
Linear taper phones pot
Stabilizer cuddles tape. Cute, but who cares? It makes it impossible to see the sides of the tape, or even what kind of tape it is.
Doesn't unslack much tape when loaded.
MM:SS counter, nonvolatile
not that accurate, can be off 1 second per minute in either direction (30 seconds on a 30-minute side)
counts to 99:59 and resets to 0:00. If you rewind, rewinds through -0:01 etc, not 99:59.

14.8w idle
15.2w pause play
18.7w play
Bass squashes first
Flywheels keep spinning a long time when power off
History
This TC-KA3ES replaced the
Timer missing the :
Lead zero suppression
No limiter
No permanent peak hold
COMPARED
Dolby S
M:s counter
Meters
USAGE
HX Pro
AMS only finds starts.
Weird all in one cal
SACDs need mpx filter!
MPX filter pops in and out without clicks
Counter needs manual reset on loading new tape
Metal for classics, CrO2 OK for pop
With power OFF, hold EJECT and power ON to raise heads for cleaning
Dolby was only a problem with decks that don't calibrate, or whose users don't calibrate and maintain them well.

Read no futhrter!
Specifications top
Performance & Operation Specs More
FM
Two 75Ω F-connector inputs.
87.5 ~ 108.0 MHz in 100 kHz steps.
6-gang tuner.
10.7 MHz IF.
Signal strength meter reads from 16 to 70 dBµV in 1 dB steps.
10.3 dBf (0.9 µV) sensitivity for 26 dB quieting, mono.
38.5 dBf (23 µV) sensitivity for 46 dB quieting, stereo.
Signal-to-noise ratio at 40 kHz deviation: 95 dB mono; 86 dB stereo (that's 100 dB mono, 91 dB stereo at 75 kHz deviation, the US broadcast standard).
Frequency response: 15 Hz ~ 15 kHz ±0.2 dB.
0.008% ThD (mono) and 0.02% (stereo), WIDE IF.
0.04% ThD (mono) and 0.07% (stereo), NARROW IF.
65 dB separation at 1 kHz.
70 dB at 300 kHz selectivity at NARROW IF.
90 dB at 400 kHz selectivity at NARROW IF.
45 dB at 300 kHz selectivity at WIDE IF.
80 dB at 400 kHz selectivity at WIDE IF.
600 mV output at 40 kHz deviation (1.125 V at 75 kHz deviation).
AM
Pair of spring-clips for antenna input.
530 ~ 1,710 kHz in 10 kHz steps.
450 kHz IF.
Signal strength meter reads from 0 to 10 arbitrary steps.
200 µV/m usable sensitivity with included antenna.
54 dB SNR at 50 mV/m at 1050 kHz.
0.3% ThD at 50 mV/m at 400 Hz.
50 dB selectivity.
Presets
40 presets
Each preset can be AM or FM.
Four banks (A, B C and D), each with 10 (1-0).
Each recalls all the tuner settings: Band, A/B Antenna, IF bandwidth, RF attenuation, FM stereo mode, etc.


Warranty
5 years.
Output
RCA stereo pair.

Power consumption
13 watts, rated.
9.35 watts, measured, FM, dim display.
9.55 watts, measured, FM, bright display.
7.65 watts, AM, dim display.
7.75 watts, AM, bright display.
Size
17 x 3-1/4 x 12-3/4 inches WHD, excluding projections.
17 x 3-7/8 x 14-1/4 inches WHD, including connectors, knobs and feet.
Weight
8.8 pounds.
4 kg.
Quality
Made in Japan.
Fluff
Anti-resonant aluminum front panel.
Off-center insulator feet.
Preset Station Naming: up to 8 characters for each preset.
Multi-sorting function.
Multi-process memory.
Infrared receiver to select presets selected from a compatible Sony remote control.
More Information top
Performance & Operation Specs More
Help me help you top
I support my growing family through this website, as crazy as it might seem.
If you find this page as helpful as a book you might have had to buy or a workshop you may have had to take, feel free to help me continue helping everyone.
If you've gotten your gear through one of my links or helped otherwise, you're family. It's great people like you who allow me to keep adding to this site full-time. Thanks!
If you haven't helped yet, please do, and consider helping me with a gift of $5.00.
As this page is copyrighted and formally registered, it is unlawful to make copies, especially in the form of printouts for personal use. If you wish to make a printout for personal use, you are granted one-time permission only if you PayPal me $5.00 per printout or part thereof. Thank you!
Thanks for reading!
Mr. & Mrs. Ken Rockwell, Ryan and Katie.
Home Donate New Search Gallery Reviews How-To Books Links Workshops About Contact