<< Back Home Gallery How-To Links Workshops About Contact Next >>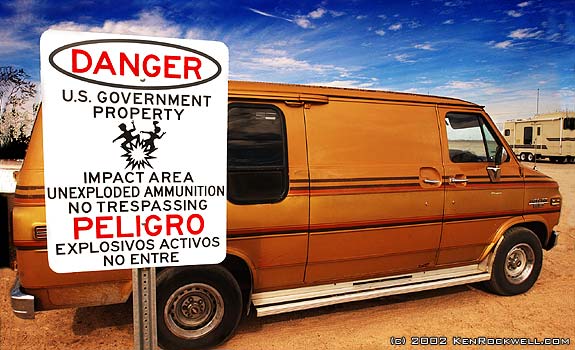 U. S. Army Yuma Proving Ground, Yuma, Arizona © 2002 Ken Rockwell.com. All rights reserved.
You have to appreciate The American Spirit. Who else would park their camper van on the receiving end of a live military firing range? These warning signs are everywhere, and let me assure you major artillery rounds from serious guns has been pounding the ground here for over fifty years. Still, this particular spot is close to Highway 95 so why not camp out here?
That's the end of our tour. From here I headed back to sunny La Jolla after a week and a half of being on the road photographing.
I hope you've enjoyed the tour!
<< Back Home Gallery How-To Links Workshops About Contact Next >>