<< Back Home Gallery How-To Links Workshops About Contact Next >>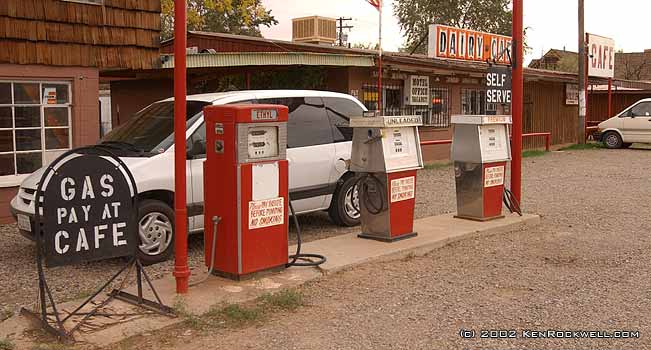 Bluff, Utah © 2002 Ken Rockwell.com. All rights reserved.
Whoa, this is a weird place. I was driving for hours in the middle of nowhere (Monument Valley, Mexican Hat, etc.) and needed to take on fuel. This place was the first filling station I discovered. The lady in the general store was pretty weird. She couldn't understand that no matter how good a deal it may have been that I didn't need a motor home hook-up for the night. She was also pretty emphatic that her fuel was from Chevron and told me how Chevron had put the other filling station out of business by requiring them to pave the station. These loans put the other guy under. Apparently Chevron is pretty picky about whom they'll allow to display their "Chevron" sign. Yes, that minivan is my company car. I pay my day job 37 cents a mile when I can't fit all my gear in my personal little Mercedes. I took all my photo gear and it just didn't fit in the trunk of the Benz, much less offer the easy access this van does.
<< Back Home Gallery How-To Links Workshops About Contact Next >>