<< Back Home Gallery How-To Links Workshops About Contact Next >>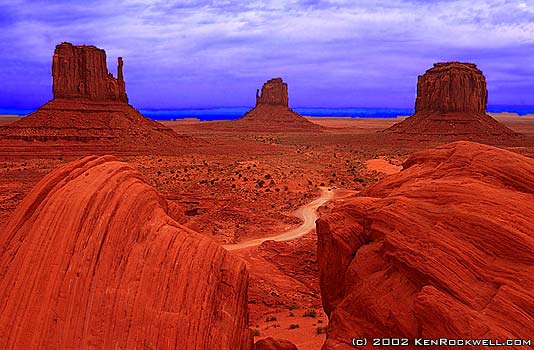 Monument Valley, Navajo Nation © 2002 Ken Rockwell.com. All rights reserved.
You can make this snap from the parking lot. You just drive here, no hiking required. You pay the Navajo about five bucks to get into the monument and have at it. There's a visitors' center, too. The weather was really boring and I had more interesting places to go (we've all seen photos of this place and therefore I'd rather go someplace new) so I moved on quickly. If I was going to stick around for a while by all means pay the Navajo the fifteen bucks for the guided tour, which means they strap you into the bed of an old modified pickup truck and haul you around.
<< Back Home Gallery How-To Links Workshops About Contact Next >>