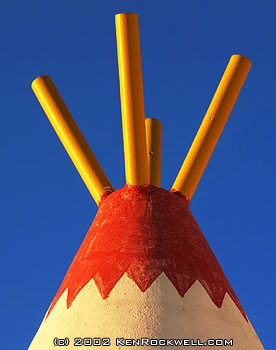 Wigwam Top, Wigwam Motel, Arizona © 2002 Ken Rockwell.com. All rights reserved.
Yip, the Wigwam motel is fun to photograph. I still haven't figured out the difference between a tee-pee and a wigwam. My brother Steve has a Ph.D. in this and even he doesn't know.
AHA! A fan sent me the explanation:
Main Entry: te·pee
Pronunciation: 'tE-(")pE
Function: noun
Etymology: Dakota thípi, from thi- to dwell
Date: 1743
: a conical tent usually consisting of skins and used especially by American Indians of the Plains
Main Entry: wig·wam
Pronunciation: 'wig-"wäm
Function: noun
Etymology: Eastern Abenaki wìk&wam house
Date: 1628
: a hut of the American Indians of the Great Lakes region and eastward having typically an arched framework of poles overlaid with bark, rush mats, or hides; also : a rough hut
and thus, the wigwam motel is really TEE PEES!!!!