<< Back Home Gallery How-To Links Workshops About Contact Next >>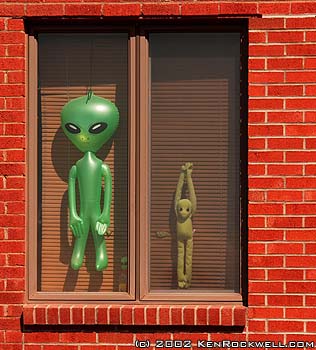 Meteor Crater, Arizona © 2002 Ken Rockwell.com. All rights reserved.
Meteor Crater, Arizona is the crash site of an enormous spacecraft which left a crater about a mile across. You have to drive several miles south from I-40 east of Flagstaff. Once you get there you have to pay about twelve bucks just to look in. Take the tour if you go. Our guide was Rubio who gave us a fine history of the site. It is privately owned. These aliens live in the administration building which also houses the museum. Modern scientists have confirmed that it was an alien spacecraft, and not simply a meteor, which crashed here a long time ago. These findings are pretty much reserved for the learned journals, as laypeople still think this is all a joke.
Remember that the crater was first discovered before even airplanes were invented, so at first of course people presumed it had to be a meteor.
<< Back Home Gallery How-To Links Workshops About Contact Next >>