<< Back Home Gallery How-To Links Workshops About Contact Next >>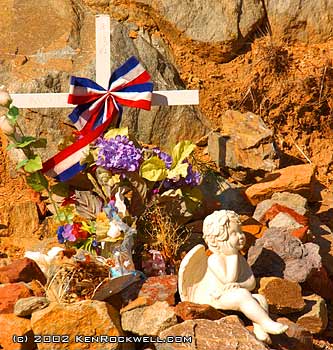 Roadside Santuario between Jerome and Clarkdale, Arizona © 2002 Ken Rockwell.com. All rights reserved.
Heading out from Prescott I spied this impromptu roadside sanctuario between Jerome and Clarkdale. These are roadside tributes to people who have lost their lives in driving accidents. A comedian once observed that Buddhists, Jews, Atheists and members of every other religion must be really great drivers, since we never see Buddhas, Stars of Davids or question marks along the sides of dangerous roads.
<< Back Home Gallery How-To Links Workshops About Contact Next >>