Skip to Original Specifications
How to Keep your Mercedes Collectible
Color: Black Pearl metallic (199 blauschwarz). Grey MB-tex interior (178 mittelgrau) and sheepskins.
Factory-Installed Extra-Cost Options:
Anti-theft alarm system including coded radio ($500 MSRP)
Electric sliding sunroof (N/C)
Metallic paint ($380 MSRP)
California Diesel Emissions Warranty ($350)
Production Levels: Only 658 were sold in the US for the entire model year 1988. See Mercedes' own page on the 190D here.
Free 24 Hour Roadside Assistance: As we Mercedes owners know, this and every Mercedes includes lifetime roadside assistance. Not only that, but at 1-800-FOR-MERCedes you get real help from skilled people who genuinely can help you or send out a skilled mechanic if needed at any hour, not just some operator to dispatch a generic tow truck. This service works: I've never been stuck in this car, but in 1992 my 1984 Mercedes wouldn't start when I was at a barren rest stop on I-40 30 miles outside of Winslow, Arizona (the middle of the desert). Mercedes sent a real Mercedes mechanic from hours away in his Mercedes wagon who fixed the problem, free. Don't confuse this with the limited programs from Lexus or BMW; see 1-800-FOR-MERCedes for details. They also can give detailed information about anything if you're as technical and curious as I am. I've also had them locate an open tire repair place who could work on my high-performance tires when I had TWO flats the same day in my SL500 while stuck out in Palm Desert, CA on a Sunday after 5PM. Mercedes has the best support program; just ask anyone who's used it.
EPA MPG: 30 city, 34 highway as you can read here. This is the most efficient automobile ever made by Mercedes-Benz. I log 37 MPG on the open freeway; my best tankful has been 42 MPG. I can get to Phoenix or Las Vegas in quiet comfort on less than 10 gallons of fuel. It's exempt from California smog checks because it's an alternative-fuel vehicle. Thank you for saving our environment! It runs on ordinary Diesel fuel, available everywhere often for less than regular gasoline when you learn to look for it. I get 30 MPG or so around town, agreeing with the EPA. This isn't your dad's crappy 1970s Diesel: it has over 60% of the horsepower of a huge military HMMWV Hummer H1, which also runs on Diesel.
Fuel prices in San Diego, 11 April, 2007.
Diesel costs less than gas if you know where to get it. This is the 76 in La Costa (inland on La Costa Bl from I-5) and the Chevron off I-5 at Palomar Airport Road, both in northern San Diego. For those of you outside Southern California, yes, our gas prices are much higher than the rest of the USA because southern Californians are addicted to our cars and will pay any price asked. Many of them would have have no way to get to work if they had no fuel.
| | | |
| --- | --- | --- |
| | | |
Fuel prices in San Diego, May, 2005.
Diesel was 10 to 30 cents per gallon cheaper than regular gasoline, and remember other Mercedes, BMW and Porsche run on premium, not regular. Prices of course vary with time as the taxes and regulations change from season to season. Local Diesel drivers asked me where these were:
1.) Circle-K (76) on El Camino Real just north of La Costa Bl
2.) Mobil on La Jolla Village Drive at Gilman, and
3.) 76 on west side of El Camino Real in Encinitas between Encinitas Bl and Leucadia Bl. I usually fill up at #3. Stations 1.) and 3.) are usually good; that Mobil usually is expensive as you can see.
Real cheapskates will seek out commercial fueling stations which have better prices than neighborhood pumps. With the 190D you have this choice that you don't have with ordinary cars.
Taking price variation into account above, fuel costs to run this 190D are the same as a car with 34 MPG city, 39MPG highway that needs premium. Getting 37 MPG for Diesel on the open freeway costs the same as getting 42 MPG on premium, and these are the real numbers I get, not the inflated Prius numbers no one really gets. Remember the Prius has batteries that will need to be replaced costing around $4,000, too, and who wants to be seen in a Prius anyway?
Better still, you'll only have to fill up twice in the same distance you would have filled up three times with a gasoline engine. Saving all the mess and time of stopping for fuel is more important to me than the price.
Safety
Airbag.
Emergency Tensioning Retractors (ETRs) for both passenger and driver. ETRs are explosive charges in the doors which snug down the seatbelts to hold you in your seat in case of frontal collision.
Of course the usual Mercedes over-design for crumple zones, four-wheel disc brakes, extra sturdy seats, side intrusion bars in the doors, etc. The seats saved me in a rear collision I had in my 1984 190D. Some idiot drove into the back of my 1984 190D at 35 MPH and totaled the car, making it a foot shorter. I hardly felt the impact, and the seat didn't break and let me flip backwards like it would have in an ordinary car. Even the inflated spare tire in the trunk is designed to absorb the force of a rear impact, something a miniature spare couldn't have done. I could be in a wheelchair with a broken spine if it hadn't have been for the features that never make it into a sales brochure; twelve airbags in a new Lexus can't do anything for a rear collision!
Full Size Spare Tire
The full size spare is on an original matching wheel. Feel free to do a five-tire rotation.
Condition: Fanatical back to top of page
June 11th, 2005. Click to enlarge.
I've had this sedan forever and love it to death. I've got all the records and paperwork, including the original factory quality control sign-off and demonstration tape for the stereo, etc. It came from Mercedes-Benz of Escondido, a San Diego, California suburb. I even have a copy of the window sticker information.
Garaged
It's garaged day and night between my Mercedes SL500 and my BMW here in San Diego. We don't get rust here. The SL500 only has 25,000 miles on it and my 1977 BMW only has 19,000 miles on it after almost 30 years. We take care of our cars. I've spared no expense taking care of my 190D and have complete service records and even a logbook. I have at least the past ten years worth of fuel receipts. The tires still have 85,000 miles (!) left under warranty and I had planned to use all of those; if I had any inkling I'd be selling it would have gotten cheaper Michelins, Pirellis, Goodyears or Continentals for which everyone else settles. I've kept it under continuous restoration and looking new and ready for decades of more pleasure and fuel economy.
Use
I've never used it for commuting or left it outside, thus it drives me nuts when looking for new cars since it's in better shape than anything more than a couple of years old. I took my bicycle last time I had an office job. I had a company car from 1995 - 2004 so the 190D sat unused under a cover in my garage, taken out every month or two to keep the battery charged and all the accessories healthy.
Keys, Manuals and etc.
I have all the keys: I have two master keys, the valet key, the still unwrapped spare wallet key and a spare duplicate wallet key. I always carry the wallet key in my wallet in case I lose my keys or lock them in the car (which you have to go out of your way to do). Contrast this to the 2003 BMW 540i my wife made me buy for over $46,000 last week for which I still haven't gotten the dealer to provide me with the valet key or demonstration CD or even the owner's manuals. I have all that for this 190D.
Body
If you haven't been out to California to see how cars that have always been indoors and never in the snow look you're in for a surprise. We don't even know what rust is out here, which never dawned on me till people outside California started asking me about it. Even I get surprised when I see how it looks with new wax on it. It looks better than new American cars look today, without the usual orange-peel paint irregularities. I wonder if anyone makes paint this good anymore? With modern environmental regulations it may no longer be possible to do paint this well. It's all original.
Originality
All original paint, wheels, upholstery, body and everything. Never any collisions or repair. Numbers match on all body panels.
It's as it left the factory, never modified or altered except for:
1.) Upgraded German standard H4 flush headlights, complete with dashboard aiming height control (Scheinwerferhöhe Steuerung). I put these on for much better and safer lighting, especially on low beam. Most people put these on because they make the car look like a current model compared to the original ugly USA-standard sealed-beam headlights. I have the originals for you, too. In 1988 the H4 headlights weren't yet DOT approved and the US models got ugly sealed-beam abortions; today H4 is DOT approved and are standard on most every European and Japanese car worldwide.
2.) The air conditioning system has been updated from outdated freon to modern R-134a. I replaced the compressor in October 2004, 4,000 miles ago.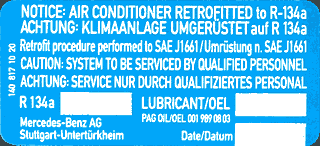 Under-hood sticker letting service people know the old freon system is gone. Other 1988 cars can't easily be serviced since freon is no longer readily available. No problem keeping the a/c working great with this modern factory retrofit.
June 11th, 2005. Click to enlarge.
The airflow is so efficient that even after 155,000 miles the engine compartment is still clean without ever having been washed. Air flows freely and the ingenious design of the grille deflects particulate matter from entering the engine compartment.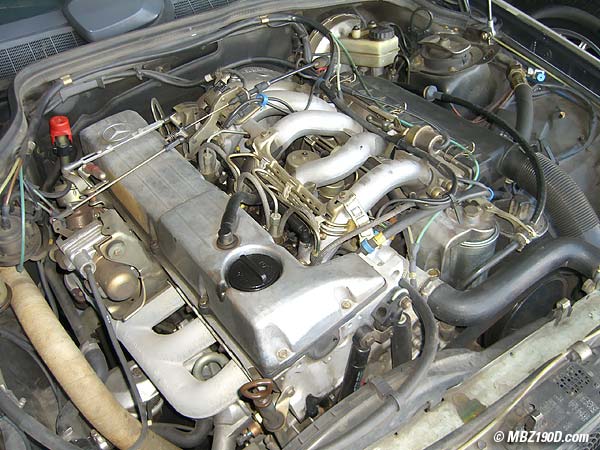 The engine has never been cleaned or needed it. This is the way it always looks. It was not driven during the San Diego fires of October 2003, in fact, it wasn't really driven at all between 1995 and 2004. Click for bigger image. Photo: May 2005.
This car has even been commented on by my fans in Germany here (in German, of course). As one said, "bestimmt kein ordinäres Schaffell. Wahrscheinlich ist es von tibetanischen Hochlandschafen bei Vollmond geschoren worden," which loosely translated means "No common sheep skins for Rockwell. They probably were sheared by Tibetan monks from highland sheep under the full moon." Well, honestly they came from SuperLamb on Miramar Road in San Diego, but I won't spoil their fun.
Window Sticker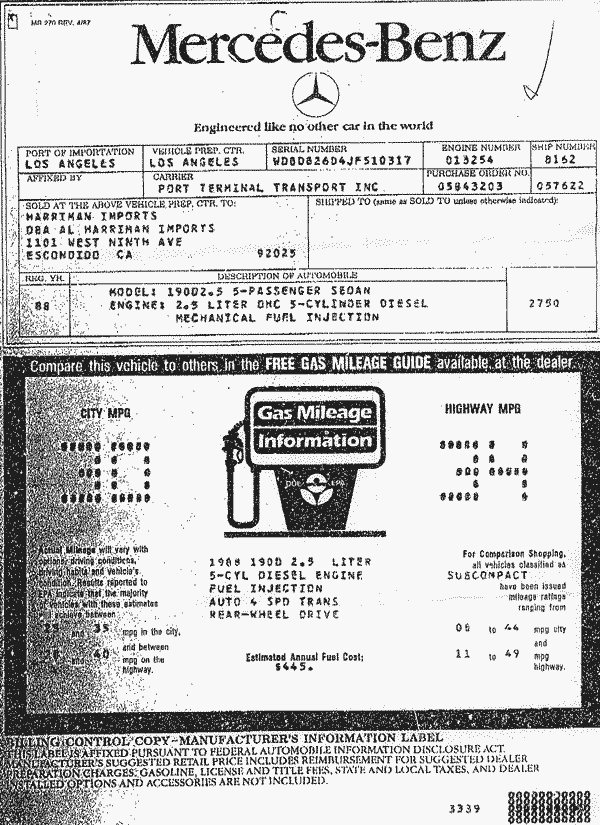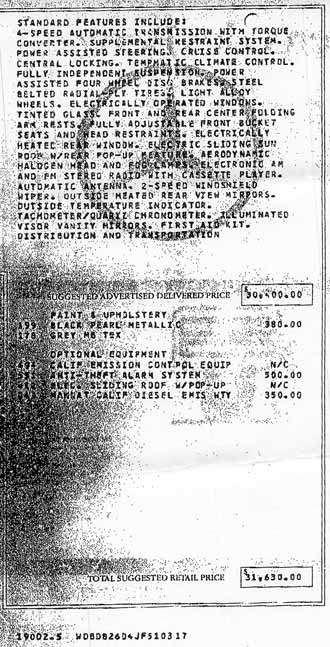 History back to top of page
It came from Mercedes-Benz of Escondido (a San Diego suburb) where it was serviced its first 5 years. I've serviced at my local independent dealer ever since. I have a file full of folders with all the documentation for it's past 16-plus years.
I sold it on July 16th, 2005. Here's the historical page I had posted when it was for sale.
The history books claim that there were no Mercedes Diesels available in California in 1988. Well not only do I have the paperwork to show it was bought new here in San Diego, here's the sticker under the hood certifying it as meeting California emissions requirements. It's exempt from California smog checks because it is an alternative-fuel vehicle. Thank you for saving our environment! The Toyota Prius runs on gas and still requires you to screw with wasting your time for smog checks as far as I know.

It sat in storage for ten years while I had a company car throughout the 1990s. I'd take it for a ride every few months to keep the battery charged and all the switches clean, and otherwise it sat covered in the garage. It made no sense to sell it even though I had an all-expenses-paid new vehicle available for my use 24/7, since this 190D 2.5 can't ever be replaced. I even got to order a brand-new American company car to my liking every two years, and of course kept my Mercedes-Benz 190 D 2.5 Sedan. Try finding one, there are rarely more than one or two for-sale listings in the entire USA, and those few are always worthless old beaters missing parts.
SPECIFICATIONS back to top of page
See MBUSA's page on the 1988 Mercedes 190D.
Dimensions and Turning Radius
35.0' turning circle (34.1'?)
175.0" long
66.1" wide
54.7" tall
104.9" wheelbase
2,845 pounds curb weight
41.9" front legroom, 30.9" rear
36.9" front headroom, 36.0" rear
11.7 cubic foot trunk
14.5 gallon fuel tank with 1.8 gallon reserve
26.4 square feet of window glass
Fuel:
Ordinary Diesel fuel, usually 20 cents per gallon cheaper than regular when you know where to buy it. Extraordinary cruising range eliminates the need for every one out of three fuel stops compared to a gasoline car. Unlike hybrids there are no batteries to replace for $4,000 in a few years when they fail after the warranty expires.
Popular among Hollywood's jet set, even Daryl Hannah drives a much crummier Diesel car as you can read here.
EPA rated 30 MPG city, 34 MPG highway here. Ken Rockwell gets 30 MPG around town and 37 to 38 MPG on long trips! Ken has seen as high as 42 MPH when others drove the car at a sustained speed of 85 MPH returning from Utah along Interstate 15 for about 700 miles.
California emissions certified by Mercedes-Benz. As an environmentally sound alternative fuel vehicle it is exempt from California's smog check annual emission testing requirements.
Engine:
Inline 5 cylinder 2.497 litre / 152.4 CID overhead cam Diesel engine
Like all Mercedes, the cam is driven by a timing chain that never needs service, not a rubber belt like a Lexus that has to be changed at great expense.
93 hp @ 4,600 RPM
122 ft-lbs @ 2,800 RPM
redline: 5,150 RPM
22.0 : 1 compression ratio
3.43" stroke, 3.31" bore
Mechanical fuel injection. Impervious to EMP effects during and after a nuclear event. Yes, in case of world war three you'll be the only one still driving because the electronic ignitions of every other car made since 1970 will have been fried. There will be no "Mad Max" because every gasoline car made since about 1970 has transistorized ignition control that replaced points. Only vehicles with mechanical ignitions and carburetors, or mechanical fuel injection and compression ignition, will be able to run. Of course forget any modern car with any sort of electronic fuel injection or onboard computers, which is every car made since 1990 including Diesels and commercial trucks. Likewise this car has a hydraulically controlled transmission also impervious to EMP. This may very well be the only operable motor vehicle left after the first nuclear burst of the next conflict, when you'll need your vehicle to run more than any time in your life. Remember that all above-ground nuclear testing stopped in 1963 before any electronic vehicle controls, and acts of war are specifically excluded from coverage under your automobile's comprehensive insurance policy.
The Diesel engine has and needs no ignition system; the fuel ignites from the temperature rise caused by the very high compression stroke. This is called "compression ignition." There are no spark plugs or ignition system.
There are cylinder pre-heaters which warm each cylinder to operating temperature for quick starts in any weather.
Transmission and Driveline:
4 speed hydraulically controlled automatic. Second-gear start except when first is needed: when floored from a stop or or on very steep hills.
3.07 rear axle ratio. With tires at 856 revs/mile you get 2,625 RPM at 60 MPH.
Wheels, Brakes, Tires and Suspension
185/65R15 87T. 856 revs/mile. Michelin is original equipment. NASA also has relied on Michelin as their sole tire supplier since the first Space Shuttle launch in 1981. What goes into Michelin's tires for NASA? The same things that go into their tires for the Concorde, F22 Stealth Fighter and B2 Stealth Bomber. Goodyear makes tires for ordinary jetliners whose ground speeds are less than good sports cars like the Mercedes SL500, big deal.
6J x 15H2 light alloy wheels
Four wheel disc brakes, fully independent suspension
Radio
Becker radio with direct numeric station entry and fine interchannel tuning to eliminate alternate channel interference.
AM stereo as well as FM stereo.
Cassette player with Dolby B and C noise reduction.
Seats
Standard Mercedes seats designed for ultra comfort on any length trip. You'll notice longer seat bottoms than newer Mercedes and other cars. Today Mercedes and others economize with shorter seat bottoms to make the interior of the car look bigger. These smaller cushions compromise on the seat comfort you have in this 190.
Gauges
The side gauges are angled in towards the driver so no accuracy is lost to parallax. My BMW by comparison has a flat gauge panel so the side gauges lose accuracy because you are not looking at them straight on unless you move your head.
The speedometer is dead on when compared to my GPS. Dead on means more accurate than a fraction of a MPH and limited by my ability to interpolate between markings. The speedometer read a little high on the previous set of tires; this will vary with wear and pressure among other things. By comparison my new BMW reads 4 MPH high, which is typical and poor.
The odometer reads high by six-tenths of one percent, and this will vary with tire wear, speed and inflation pressure.
The fuel gauge is typical for Mercedes: it reads 4/4 when full, and comes off the 4/4 mark as soon as you drive a bit. The light comes on when you reach the R marking at the bottom, at which point you still have a gallon or two (check the manual) to go. This contrasts with newer models like my 1997 SL500 the bottom of whose fuel gauge reads 0 and the reserve light which comes on at 1/8. My 190D drinks 12.5 gallons of fuel when the reserve light illuminates. I fill to the rim, which is a half gallon above the pump shut off. There is no annoying vapor recovery as on ordinary gas cars.
The clock is more accurate than I can measure. I can read it to within several seconds and I've never seen it vary even after six months. of course after six months one needs to reset it to or from daylight time.
Detailing and Paint
All original. I've always washed and waxed it by hand. I've never had it polished commercially, nor has anything ever been repainted.
This means that if it looks this good today that you can take it out and have it clayed, polished or whatever to your heart's content and make it even shinier.
I'm a big saver. I never like to use or spend things. I've never wanted to have it polished, which as you know means grinding down a few microns off the top of the clear coat. It's all there for you to do with as you please.
For the past 10 years I've used black-colored wax. It's called something like "Color Match" by Turtlewax and is easy to find. It sounds silly, but this black wax means that any spots you miss when wiping it off don't scream "mistake" as white wax does when it turns white. Brilliant!
I use Meguire's to treat the outside black plastic. That's it!